Lacking setup man, Farrell gets creative with bullpen
Lacking setup man, Farrell gets creative with bullpen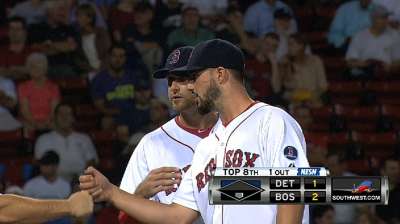 BOSTON -- Only two bullpens in the Majors have allowed inherited runners to score more often than the Red Sox, who have allowed a staggering 34 percent to cross home plate, the runs getting charged to the previous pitchers' ERA.
While Koji Uehara has been a force in the ninth inning since taking over, the Red Sox have been without a true setup man. On Tuesday night, manager John Farrell really had to get creative, using three pitchers, each recording one out, in the eighth inning as a bridge to Uehara, who hasn't allowed a run in 25 consecutive innings.
Right-hander Brandon Workman, left-hander Craig Breslow and right-hander Junichi Tazawa combined to shut down the Tigers' heart of the order and the Red Sox won, 2-1.
Farrell doesn't love the idea of using three pitchers in one inning, especially considering relievers tend to appreciate more defined roles, but he said he gave them fair warning.
"We did call down at the beginning of the inning and basically outlined what we were going to do," Farrell said. "The fact that they were brought in for individual hitters was not a surprise. It was laid out so they could anticipate what their role was going to be at that moment.
"If we weren't in that part of the order, we probably would have gone with one guy to go through the eighth inning. It just so happened that the situation called for the matchups."
While Farrell should garner plenty of consideration for Manager of the Year Award voting, his bullpen management has been unpredictable. He's used 26 pitchers, tied for sixth most in the Majors, though that's largely due to the number of injuries the Red Sox have experienced in the bullpen.
The emergence of Workman as a reliable right-hander in high-leverage situations has been encouraging for the Red Sox, who have also shown faith in Breslow but have expressed concern over Tazawa's diminishing effectiveness of late.
Workman, who retired Miguel Cabrera with the game on the line Tuesday, could continue to pitch in late-and-close situations.
"Through his performance, he's gained a lot of trust in us," Farrell said. "And we felt like in this situation, his strike-throwing capability, good mound presence, didn't show any fear or intimidation in situations that he's been in either as a starter or reliever with us.
"Last night was probably the highest leverage situation he's been brought into. As he's done with other opportunities, he handled it well."
Jason Mastrodonato is a reporter for MLB.com. Follow him on Twitter @jmastrodonato. This story was not subject to the approval of Major League Baseball or its clubs.