Escobar tops KC list for consecutive steals
Escobar tops KC list for consecutive steals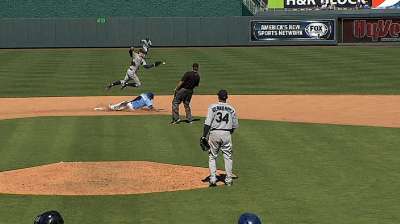 KANSAS CITY -- After a pair of stolen bases in Monday's 3-1 win over the Mariners, shortstop Alcides Escobar set a new Royals single-season record with 18 consecutive steals. He also held the longest consecutive streak in the Major Leagues entering Wednesday night's game.
"I didn't even know that until yesterday when it was on the scoreboard," said Escobar, who is perfect at 18-for-18. "Being in Kansas City and leading them all-time in the record is good. I am so happy for that."
Escobar eclipsed Gary Thurman's mark of 16 straight in 1989, and has swiped 25 straight overall dating to Sept. 14, 2012. Carlos Beltran owns that Royals record of 33 in a row from Sept. 28, 1999 to Aug. 10, 2001
He's not the only Royals runner finding success on the basepaths this season. In fact, the club leads the Majors with 129 stolen bases entering Wednesday and ranks second in the American League with an 84.3 success rate.
"We have a lot of speedy guys in here like [Jarrod] Dyson, me, [Chris] Getz and now [Emilio] Bonifacio," Escobar said. "A lot of guys that you know can steal a base."
Dick Kaegel is a reporter for MLB.com. Kathleen Gier is an associate reporter for MLB.com. This story was not subject to the approval of Major League Baseball or its clubs.