Red Sox not surprised Cubs claim Bard
Red Sox not surprised Cubs claim Bard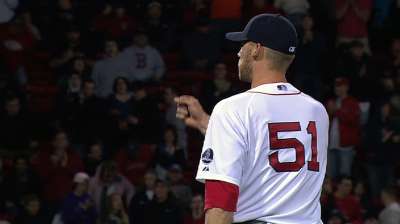 BOSTON -- Daniel Bard is no longer with the Red Sox, and manager John Farrell wasn't surprised to see which team nabbed Bard off waivers.
Once the best setup man in baseball and the heir apparent to Jonathan Papelbon in the ninth-inning role, Bard was designated for assignment by the Red Sox on Sunday when they needed space on the 40-man roster. On Wednesday, the Chicago Cubs, whose president Theo Epstein was Boston's general manager when Bard was selected in the first round of the 2006 First-Year Player Draft, claimed him.
"Not surprised that the Cubs would claim him given the familiarity with Theo and [general manager Jed Hoyer], who drafted him here," Farrell said. "I guess the most important thing is that we wish him well. We hope he gets back on track. There's still a good pitcher in there once he gets back on track."
Epstein was out of Boston before the Red Sox announced their decision to transition Bard into the starting rotation prior to the 2012 season. The results were tragic: Bard posted a 6.22 ERA, saw his walk rate more than double and was eventually sent to the Minor Leagues, where success has since evaded him.
In 15 1/3 Minor League innings in 2013, Bard walked 27 batters and struck out nine.
Only 28, the Cubs have taken an interest in other pitchers full of talent but lacking in results. Bard could be a good fit for the Cubs, though Farrell warned that it might take some time before they see any results.
"There's still a player and a pitcher there that's motivated, and yet anytime that there's activity disrupted by an injury, that's going to slow that process," Farrell said. "Time was of the essence with us. We needed the roster space. But based on what we saw over the last couple of years, it needs to be built back gradually. How long that takes is the unknown in this."
Jason Mastrodonato is a reporter for MLB.com. Follow him on Twitter @jmastrodonato. This story was not subject to the approval of Major League Baseball or its clubs.