Bochy frustrated by hitting with men on base
Bochy frustrated by hitting with men on base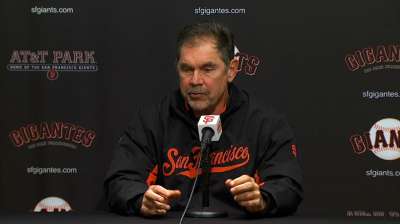 SAN DIEGO -- Over the course of a baseball season, some losses understandably sting more than others. Manager Bruce Bochy said Tuesday night's 3-2 defeat in San Diego was one of them.
After the game, in which the Giants stranded 10 runners and went 3-for-15 with men in scoring position, Bochy stayed up until midnight on the phone with general manager Brian Sabean. Hitting coaches Hensley Meulens and Joe Lefebvre were also present, and Bochy put the phone on speaker.
"Even with where we're at, and we're down to 20-something games, we still want to work on things," Bochy said. "This doesn't stop us trying to get better. The last thing you want to do is say, 'Well, we'll play this out.' We've got work to do to get better, so there's a good feeling when we go into next year."
The primary topic of discussion during the phone call was hitting with men on base, which has plagued the Giants for pretty much the entire second half of the season.
"We've done a lot of situational hitting, in the cage and out on the field," Bochy said. "I do think you can put too much pressure on them by talking about it too much, but at the same time, we've got to get the big elephant out of the closet."
Before batting practice Wednesday afternoon, Bochy instructed his coaches to trim a few pitches from each player's round. Too much pregame prep work, Bochy said, can defeat its purpose.
"You get to a point where there's a diminishing return on hitting," Bochy said. "Fatigue sets in, and that's when the bad habits come into play."
AJ Cassavell is a reporter for MLB.com. Follow him on Twitter @ajcassavell. This story was not subject to the approval of Major League Baseball or its clubs.