First base to be one focus for Brewers this offeason
First base to be one focus for Brewers this offeason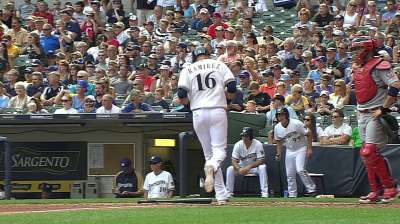 MILWAUKEE -- Juan Francisco is slumping, Corey Hart is headed for free agency, Mat Gamel is rehabbing, and Hunter Morris was left in the Minors.
It appears the Brewers will enter the offseason with no more certainty at first base than when their challenging season began.
"The only way it settles is if you go out and look for and sign a big-time first baseman, and those are costly," Brewers manager Ron Roenicke said. "I looked at [Carlos Pena] a couple of years ago, and he hits .220 with some homers, and he's making $10 million at first base for a year. So, I don't know."
The Brewers could solve the problem by re-signing Hart, but can they count on him to be healthy after undergoing right knee surgery in January and left knee surgery in July? What can they expect from Gamel after two consecutive seasons lost to ACL surgeries? Francisco has tremendous raw power, but can he be consistent enough in the field and at the plate to play every day?
And what to make of Morris? After batting .303 with 28 home runs and 113 RBIs at Double-A Huntsville in 2012, he hit .247 with 24 home runs and 73 RBIs at Triple-A Nashville in 2013. He will have to be added to the 40-man roster this winter, but the Brewers opted not to include the soon-to-be 25-year-old among its September callups.
"We talked about it," Roenicke said. "It just depends on where we thought his development was and whether he's going to be that guy who's going to be there next year."
Asked what he'd been told about Morris' season, Roenicke said the player was, "Getting better defensively. Hit for power. But he's got to be more consistent with what he's doing. He was coming off a great year in Double-A, and Triple-A ball, sometimes it takes a little longer. He hit [.247] … I don't know what that plays out to the big leagues. You don't know."
How the Brewers solve their first base conundrum will determine how much Jonathan Lucroy plays there in 2014. The Brewers' regular catcher has seen occasional time at first this season when backup Martin Maldonado does the catching, a way to keep Lucroy's big bat in the lineup.
Lucroy made his fifth start at first base on Wednesday night.
"Luc has really done a good job at first base. He's surprised me," Roenicke said. "I'm not surprised that he'll catch a ground ball and he'll pick a ball in the dirt, just because he has to do it catching, also. But he looks pretty comfortable out there."
Adam McCalvy is a reporter for MLB.com. Read his blog, Brew Beat, and follow him on Twitter at @AdamMcCalvy. This story was not subject to the approval of Major League Baseball or its clubs.