Brewers break out bats to best Bucs in finale
Brewers break out bats to best Bucs in finale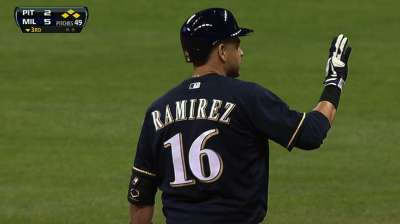 MILWAUKEE -- The Pirates will seal their winning season someday soon, but the Brewers ensured the milestone will occur somewhere else.
"Not in our house," rookie Brewers outfielder Khris Davis said.
Davis hit a two-run home run in the second inning before Pirates starter Francisco Liriano came unglued in the third, leading to a five-run inning and a 9-3 Brewers win at Miller Park on Wednesday.
The Pirates remained stuck on 81 wins and the Brewers avoided what would have been Pittsburgh's first three-game sweep at Miller Park in more than nine years. With at least one hit from all eight of their positional starters, the Brewers also avoided a winless six-game homestand and gave starter Wily Peralta his first win in nearly a month.
"I don't know if it was [Liriano's] location that was off or we were just hitting good pitches, but it was sure nice to see," Brewers manager Ron Roenicke said. "I was thinking going into the game if Wily can hold them down enough and we score two or three, maybe we can get it."
Instead, they scored seven runs in three innings against Liriano, who surrendered seven hits, two walks and two costly wild pitches while throwing 73 pitches.
"I started missing my spot," Liriano said. "You also have to give credit to the hitters. They started taking pretty good swings."
All of the damage came after Liriano -- who entered the night with a 2.57 ERA and was coming off an eight-inning, no-run, two-hit gem against the Cardinals -- breezed through a perfect first inning. He walked Aramis Ramirez leading off the second, then fell behind Davis, 3-and-1, and opted to groove a fastball rather than walk a second consecutive batter. Davis sent the pitch over the Brewers' bullpen for his ninth home run and a 2-1 lead.
After the Pirates tied the game in the top of the third against Peralta, the Brewers sent nine men to the plate and scored five runs. The inning began with four successive Brewers hits, including Jonathan Lucroy's go-ahead double and Ramirez's two-run double for insurance.
Three batters later, Liriano bobbled a Jeff Bianchi comebacker that could have produced an inning-ending double play, and instead became a run-scoring groundout. Two batters after that, with Peralta batting, Liriano threw consecutive wild pitches past catcher John Buck that allowed Yuniesky Betancourt to score another insurance run.
"Just to finish off the homestand was nice, where everybody is knocking in a run and you get a 'W,'" Davis said. "It's something to build off of."
Of delaying the Pirates' bid to clinch their first winning season since 1992, Davis said, "Yeah, it means something, because we're competitors. We want to win at the end of the day."
Peralta held on through the end of the sixth, his only additional blemish an Andrew McCutchen solo home run in the fifth inning. McCutchen appeared to watch the ball fly before beginning his trot around the bases, and when Peralta's next pitch struck Justin Morneau, Morneau took issue and the benches and bullpens slowly cleared. Play resumed without incident.
Peralta and Roenicke each insisted the wayward pitch was unintentional.
"Any time you give up a home run and the next guy is hit, I don't care what hitter it is, when you get hit with a ball, you get mad," Roenicke said. "I don't have any issue with Morneau getting mad there. I know we weren't trying to hit him. I know Wily wasn't trying to do it."
Peralta was not exactly sharp while allowing three runs on nine hits in six laborious innings.
"I thought he made some really good pitches when he needed to, but he struggled," Roenicke said. "He struggled with his command, and then all of a sudden on 3-2, he makes a great pitch, and he did it more than once. So when he needed to make [a pitch], he did."
Twice in the first three innings, Brewers pitching coach Rick Kranitz visited the mound. On at least one other occasion, Martin Maldonado, Peralta's personal catcher, yelled in Peralta's direction.
"[Maldonado] is trying to get his focus back in there again," Roenicke said. "[Peralta] gets mad, and he tries to overthrow the ball. Maldy tells him, 'Let's go. Get it back together.' And he did."
The Brewers had lost each of Peralta's last four starts before Wednesday's win.
"I got a lot of run support today. That hasn't happened a lot this year," he said.
Next up for the Brewers: A three-game series against the Cubs sandwiched between two off-days, followed by 20 games in as many days to finish the season.
"We're coming up a little short, but I like the way we're playing," Roenicke said. "We're battling. When you're in every game, or most all of the games, then it makes it fun for myself, it makes it fun for the players, that they know that we're one hit away or one good pitch away. I don't care if we're out of it or not, every win is a big win."
Adam McCalvy is a reporter for MLB.com. Read his blog, Brew Beat, and follow him on Twitter at @AdamMcCalvy. This story was not subject to the approval of Major League Baseball or its clubs.