Machado homers, but O's drop back in race
Machado homers, but O's drop back in race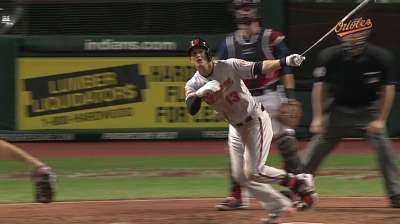 CLEVELAND -- Every game is magnified down the stretch, every win propping the Orioles up and every loss making the uphill climb for the American League Wild Card that much tougher.
As the Orioles prepared to board a plane back to Baltimore late Wednesday night, they were left with the disappointing taste of a sub-.500 road trip that did nothing to further their postseason ambitions.
Instead, with Wednesday's 6-4 loss to Cleveland at Progressive Field, the Orioles followed up a home series win over Oakland with three series losses to the Indians, Yankees and Red Sox and are fast falling in a crowded playoff picture.
The Orioles, who have lost four of their last five series -- all against contending teams -- are now four games back of the Rays in the Wild Card chase, also trailing both the Indians and Yankees in their October pursuit.
"You got to have some faith in them," Orioles manager Buck Showalter said of his club's final 24 games. "There's some good things yet to come from these guys. We dug ourselves some holes, pitching-wise, but we are capable of coming through.
"Look at [Adam] Jonsie, who gets nailed in the forearm and comes back next at-bat and hits a home run. That's all you got to know about these guys. There's a lot of guys like him in there. So, I chose to trust them and think there's some good things ahead, some better things."
The Orioles, who have just one series left against a non-contender -- a four-gamer against the White Sox starting Thursday in Baltimore -- have to hope that's the case. A year removed from stunning the baseball world by earning their first playoff berth in 15 years, the O's are finding out that repeating the task is a tall order. Particularly given the erratic nature of the offense and an unsettled starting rotation that got seven outs from Zach Britton Wednesday night.
"Very dissatisfying, I think that's a good word to use," Jones said. "I think as a team we haven't clicked the last nine games. It's September and you're hearing all the clichés, 'One game at a time,' and whatever, but it's true. We have to take it that way. We have to keep battling and come to the yard with that positive mentality and play the right way.
"We're still the underdogs. Obviously, we have more expectations this year. But we're still the underdogs, and we just have to play the game and continuously pound out the hits and [continue] running down the line and pitching and playing defense."
The Orioles, who recorded six hits on Wednesday, struggled immediately, with Britton never recovering from a four-run first inning and recording a mere seven outs before being pulled in the third.
Granted a pivotal September start to enable to rest of the rotation to get an extra day of rest, Britton allowed six hits and two walks and threw 54 pitches, the lowest number thrown by an Orioles starter this season.
"I was leaving the ball up in the zone," said Britton, recalled from Triple-A earlier in the week, who admitted he was over-excited at the start. "Everything was kind of flat. I was behind in the count too, so you mix that together and it wasn't a very good sign."
Britton chastised himself for not covering the bag quick enough on leadoff hitter Michael Bourn's ball to first baseman Chris Davis and felt it was a big momentum swing that helped a struggling Indians lineup tee off in a 28-pitch inning.
"He was really fighting himself," Showalter said. "He's capable of pitching up here, it just wasn't tonight. And we're not in a position to wait around two or three or four innings for him to find his step."
In an immediate 4-0 hole, the Orioles fought back with four runs off Indians starter Zach McAllister, highlighted by Manny Machado's two-out, three-run homer to center field in the fifth inning. After Jones had put the Orioles on the board in the fourth, blasting 1-1 pitch an estimated 389 feet, J.J. Hardy delivered a one-out double in the fifth. One out later, Brian Roberts walked and Machado evened things up with his 13th homer of the year.
But that was all Baltimore could muster, as the lineup, which leads the Majors in home runs, continued to live and die by the long ball. Homers have accounted for their past 11 runs and 17 of their last 21.
"Obviously you don't want to be down that much in the first inning, it's unfortunate," Machado said. "That was a big first inning for them. Tried to come back, but we came up short."
Rookie righty Kevin Gausman took over for Britton in the third and allowed the Indians to take back the lead in the fifth on Yan Gomes' double and a wild pitch. It marked the first time that Gausman, who outlasted his starter by going 2 2/3 innings in relief, had allowed runs over three outings since being recalled for his third stint with Baltimore.
"They're one of the teams that is clogged up with about four or five of us," Indians manager Terry Francona said. "Tonight, in actuality, is no bigger than any other game. But it certainly seems like a big swing game."
The Orioles, who return home for an eight-game homestand against Chicago and New York, will try to swing the pendulum back the other way.
"We're not in panic mode yet," Machado said. "I don't think we will be in panic mode. We're just going to go out there and keep playing baseball. That's the only thing we can control, and everything else will fall into place."
Brittany Ghiroli is a reporter for MLB.com. Read her blog, Britt's Bird Watch, and follow her on Twitter @britt_ghiroli. This story was not subject to the approval of Major League Baseball or its clubs.