Reynolds embraces new role with Cingrani's return
Reynolds embraces new role with Cingrani's return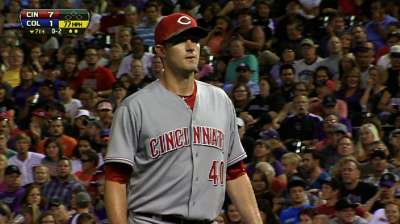 CINCINNATI -- Reds manager Dusty Baker knows starting pitcher Tony Cingrani will return from a lower back strain on Thursday and make his first start since Aug. 20. Beyond that, Baker's uncertain of what to expect.
"We're not sure exactly what we're going to get," Baker said of Cingrani. "We're not sure about his endurance, but I'm glad it's September and we've got some guys that can pitch behind him."
One of those guys is Greg Reynolds, who took Cingrani's place in the rotation after he landed on the disabled list. Baker said on Tuesday that Reynolds will be available to piggyback Cingrani's outing in case the left-hander can't go deep into Thursday's return start. On Wednesday, Reynolds said he's ready to contribute in any way possible.
"Obviously, a lot of it's dictated by how the game goes," Reynolds said. "I'll definitely be ready with whatever role. Even farther than tomorrow, I'll be ready to do whatever we need."
Although it's no guarantee Reynolds will be needed on Thursday, he's preparing like he's going to pitch. Once it was determined Cingrani would be making his scheduled start and Baker told Reynolds he might come out of the bullpen, the 28-year-old righty sought out advice from Cincinnati relievers, particularly Sam LeCure.
In 2010 and '11, LeCure's first two seasons of Major League experience, the right-hander combined to start 10 of his 58 appearances before pitching strictly out of the bullpen in '12 and this season. Prior to his time in the big leagues, though, LeCure was mostly a starter, and he was able to provide Reynolds with some tips on adjusting to a different role.
Reynolds also has been able to draw from his own experiences, as he made 10 relief appearances when he was still with the Rockies in 2011.
"It will be a little different, but I don't expect it to be a problem," Reynolds said. "Once you get out on the field, it really doesn't matter what you've done to that point. All that matters is you making a pitch and getting outs."
The two starts Reynolds made in place of Cingrani did wonders for his confidence, he said. On Aug. 25, he allowed just two runs in six innings of work before going eight innings and surrendering three runs against his former team on Saturday. Although he's made 19 starts in his career, Saturday marked just his sixth win. Limited by shoulder injuries and subsequent surgeries during his time in Colorado, Reynolds said he's just grateful for any opportunity he has to contribute while he and his teammates compete in a hotly contested pennant race.
"It's what we're all playing for," Reynolds said. "It's an exciting time around here. These are all big games, especially within the division. To kind of just be thrown into it, I'm just embracing it and taking it in stride. I'm going to enjoy every minute of it, and I'm really looking forward to helping out any way I can."
Jeremy Warnemuende is an associate reporter for MLB.com. This story was not subject to the approval of Major League Baseball or its clubs.