Prospects deliver promising debuts in loss to Yankees
Prospects deliver promising debuts in loss to Yankees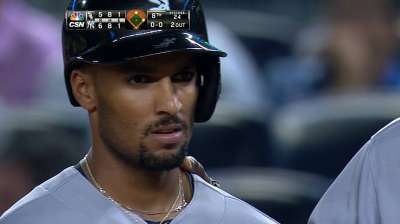 NEW YORK -- Erik Johnson's first Major League strikeout now officially stands as Ichiro Suzuki, who passed the 4,000-hit plateau for his entire career earlier this season.
Marcus Semien not only picked up two hits and his first career RBI, but he also had a chance to talk to Derek Jeter, one of his boyhood idols.
And Daniel Webb someday can tell his kids that Jeter was the first hitter he faced as a big leaguer and Alfonso Soriano was his first out recorded.
All three of these White Sox rookies will never forget their debuts during Wednesday's 6-5 loss to the Yankees.
This trio began what the White Sox hope are promising careers at Yankee Stadium, quite possibly baseball's most storied venue, even in its relatively new incarnation. Those debuts came in the club's sixth straight setback on this 10-game East Coast road trip, but a defeat in which the South Siders didn't fall without a fight.
Amidst the White Sox dropping to 56-82 during a season they are collectively counting the days down to forget, these September callups and promising prospects provided the franchise with a reason to smile.
Along the way, they were able to separate from the competition long enough to produce a few smiles of their own from a job well done just to arrive.
"It was one to remember," said Johnson, whose immediate family made the trip across the country from California to watch him pitch. "It was great, just another time out there for me, and there's nothing better than to do it at Yankee Stadium."
"I really was trying to stay calm the whole time, just not trying to look up in the stands and see how many fans were out there," Semien said. "But I was happy with my performance. It was a lot of fun."
Johnson posted a 12-3 record with a miniscule 1.96 ERA over 142 combined innings and 24 starts for Double-A Birmingham and Triple-A Charlotte. The opposing lineup he faced Wednesday was just a bit tougher, not to mention pitching in front of 36,082 frenzied fans.
His first offering was a 92-mph fastball that went for a called strike to Brett Gardner, and his first out was Gardner's soft liner to second baseman Gordon Beckham. Johnson then went up against Jeter, Robinson Cano, Soriano, Curtis Granderson, Alex Rodriguez and Ichiro in order.
Welcome to the big leagues, kid.
"He got through it," White Sox manager Robin Ventura said of Johnson. "Obviously, he had some jitters going out there, but he battled through. For a first time out there, it's promising to see what he did."
Cano actually delivered that first-inning welcome moment with a first-pitch blast into the right-field stands for his 26th home run and 90th RBI. Johnson stranded the bases loaded in that opening frame by fanning Ichiro.
The Yankees (75-64) didn't score over the next two innings but pushed four across in the fourth. Only two of those four runs were earned, as Johnson's errant throw on Ichiro's tapper back to the mound set up the rally.
When Johnson exited after six innings and 105 pitches, he had allowed three earned runs on seven hits with that one strikeout and three walks.
"Definitely a good start to build off of," Johnson said. "I thought I could have done a better job of filling up the strike zone, but overall I thought I did well."
Semien got his first official at-bat against CC Sabathia (13-11) in the second, and promptly dropped a single into right-center off of a 2-2 changeup. He struck out in his next two trips to the plate but hung in tough against a starter with 204 career victories.
Webb replaced Johnson in the seventh, walking Jeter on a full-count offering and then giving up Cano's single to right and Soriano's sacrifice fly.
These youngsters joined a lineup already featuring Avisail Garcia in right and Josh Phegley behind the plate. They also joined together to put a late scare into the Yankees by scoring four in the eighth.
Garcia, who had singled home a run in the first, singled home another in the eighth off of reliever David Robertson. Phegley followed Garcia's shot one-out later with a two-run single to center on an 0-2 pitch from Robertson, and Semien hit the next pitch for another run-scoring single.
"They jumped on some first pitches on him," said Yankees manager Joe Girardi of the White Sox rally against Robertson. "I didn't necessarily think they were bad pitches. There were some balls hit OK, some ground balls, too. They just weren't at people."
Ultimately, Mariano Rivera closed the victory with a four-out save for his 41st of the season.
"What they bring intensity-wise, the effort," said Ventura of his young charges. "It's one thing to get a start, and to get one here probably intensifies it a little bit. That's good stuff."
"That was great to be a part of a close game with all those players out there I grew up watching," Semien said.
Jeter and Semien talked on the field at third base briefly in the seventh inning, with Jeter offering congratulations and then joking, "It's that easy, huh?" concerning Semien's first hit.
"Pretty excited about that," said a smiling Semien, who also got the baseball from his first hit.
There was no victory for the White Sox youth movement Wednesday, but there were plenty of positives to go with the lifelong memories.
Scott Merkin is a reporter for MLB.com. Read his blog, Merk's Works, and follow him on Twitter @scottmerkin. This story was not subject to the approval of Major League Baseball or its clubs.