Adams' second homer in extras delivers clutch victory
Adams' second homer in extras delivers clutch victory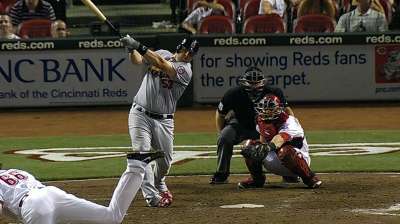 CINCINNATI -- Matt Adams needed two tries to make history and be St. Louis' hero Wednesday night.
After seeing his go-ahead home run in the 14th inning wiped out by a blown save, Adams -- in the game only because Allen Craig left with an injury -- smacked his 11th homer with one out in the 16th inning to give the Cardinals a 5-4 win over Cincinnati.
"It feels good," Adams said after his second career multihomer game. "It would feel good to anybody, especially against the team we're battling for a playoff spot."
Adams became the first player in Cardinals history to hit two extra-inning home runs in the same game.
"How often do you see a guy take the lead twice?" Reds manager Dusty Baker said. "He's a dangerous man coming off the bench."
Adams' 398-foot shot to right-center field off of Logan Ondrusek (3-1) gave Carlos Martinez (2-1) the win. Martinez, St. Louis' ninth pitcher, pitched two scoreless innings, escaping the 15th when Shin-Soo Choo was thrown out at the plate on what appeared to be a botched Chris Heisey squeeze attempt.
"You're not going to lay a squeeze down with two outs," Baker said. "Heisey, he thought the third baseman was back. He was bunting for a hit, and Choo was trying to score. It looked like he didn't see the ball go past him, and by then you're in no-man's land because he was going to try to score."
After Adams snapped a 3-3 tie with a 389-foot homer into the right-field seats leading off the 14th inning, his first home run since Aug. 6, Ryan Ludwick led off the bottom of the inning against Cardinals closer Edward Mujica with a pinch-hit single. Rookie basestealing sensation Billy Hamilton stole his second base in two nights, though catcher Yadier Molina and manager Mike Matheny argued that batter Zack Cozart was guilty of interference. Cozart then bounced a game-tying single up the middle, giving Mujica his third blown save of the season.
St. Louis starter Shelby Miller left with a no-decision after allowing six hits and three runs with four walks, three strikeouts and a wild pitch in 5 2/3 innings.
Cincinnati starter Bronson Arroyo also took a no-decision. Arroyo gave up three runs (two earned) and seven hits with no walks and four strikeouts in seven innings.
The Reds, who now trail the second-place Cardinals by 2 1/2 games in the National League Central, got to Miller in the second. Cozart and Ryan Hanigan led off with singles and Arroyo moved them over with a sacrifice bunt. Cozart scored from third and Hanigan replaced him there on Choo's groundout to second. Hanigan then came home on Miller's wild pitch.
The Cardinals, who'd lost five of their previous six games and now trail the division-leading Pirates by one game, tied the score in the fourth with the help of a bizarre play that cost them the services of Craig. Matt Carpenter led off with his second hit of the game and went to third on Carlos Beltran's grounder up the middle, on which Cozart and second baseman Brandon Phillips appeared to exchange mixed signals as to which one of them would field it. Matt Holliday drove in Carpenter with a sacrifice fly, and Beltran alertly went to second when Choo's high throw was cut off by leaping first baseman Joey Votto near the mound.
Craig followed with a chopper on which Votto made a diving stop, but lying on his back, made an errant throw that sailed over the leaping Arroyo and into foul territory, allowing Beltran to score. Craig sustained a left foot sprain while rounding first and trying to avoid first-base umpire Laz Diaz. Adding insult to injury, Craig was tagged out by Votto while still on the ground before leaving the game.
The Reds regained the lead on Phillips' fifth-inning leadoff home run, but the Cardinals tied the score again in the sixth on Carpenter's one-out double and Beltran's RBI single.
"That was just a character win," Matheny said. "The guys just kept grinding, not giving up or giving in. The job the young bullpen did holding them down was impressive. That's one of those wins you don't forget.
"Adams has been so good all season for us in different positions. He's got that kind of power."
Mark Schmetzer is a contributor to MLB.com. This story was not subject to the approval of Major League Baseball or its clubs.