Missed opportunities highlight Reds' marathon loss
Missed opportunities highlight Reds' marathon loss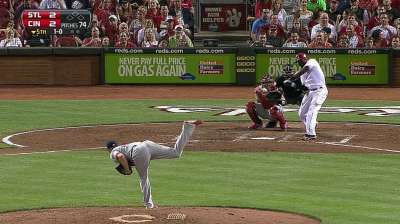 CINCINNATI -- By the time Reds starter Bronson Arroyo addressed the media following Wednesday's 5-4 extra-innings loss to the Cardinals, he said it felt like yesterday since he had pitched. After a game that lasted 16 innings, saw Cincinnati burn through seven pitchers and took nearly five hours to complete, it technically was.
Before trading runs in the 14th to extend the game, the two teams combined for seven straight scoreless innings. It finally took a solo homer from Cardinals first baseman Matt Adams, who replaced the injured Allen Craig, in the top of the 16th -- his second of extra-innings -- to hand the Reds the disappointing loss.
"It was a hard-fought game, man," Arroyo said. "It could have went either way. Both teams gave away some good opportunities, and they capitalized on one more than we did."
The biggest lost opportunity for the Reds on Wednesday came in the bottom of the 15th inning, which Shin-Soo Choo led off with his second single of the game. After a Brandon Phillips bunt moved Choo to second, he advanced to third on a Joey Votto groundout.
With two outs, Chris Heisey stepped to the plate and attempted to put down a bunt in a 1-1 count. He fanned on the ball, however, allowing catcher Yadier Molina to catch Choo, who had already broke for home, in a rundown and eventually tag him out.
The missed bunt was not a call that came down from manager Dusty Baker.
"You're not going to lay a squeeze down with two outs," Baker said. "Heisey, he thought the third baseman was back. He was bunting for a hit, and Choo was trying to score. It looked like he didn't see the ball go past him, and by then you're in no-man's land because he was trying to score."
Heisey eventually struck out in the 16th, and along with Joey Votto and Jay Bruce, the Reds' Nos. 3-4-5 hitters combined to go 0-for-19 on the night with two walks, including one that was intentional. They also accounted for five strikeouts, three of which came from Votto, who went a career-worst 0-for-7.
The Reds' inability to capitalize began about four hours earlier in the first, when they loaded the bases with one out. A popout and flyout later, Cincinnati walked away empty, setting the tone for the rest of the night.
"We did have a lot of missed opportunities," Baker said. "The first inning was big. We came out of it with nothing. Then we had a whole bunch of other chances up there."
Cincinnati did manage to score on a few occasions Wednesday. After the blown opportunity in the first, Zack Cozart scored on a Choo groundout after leading off the bottom of the second with a single. Ryan Hanigan, who singled right after Cozart, also came home on a wild pitch.
Phillips then led off the fifth inning with a home run, giving him his 100th RBI of the season and making him the only Reds second baseman other than Joe Morgan in 1976 (111 RBIs) to drive in triple-digit runs in a season.
On Wednesday, though, that achievement was secondary for Phillips.
"It's all about winning right now," Phillips said. "We really needed that 'W.' It [stinks] to lose the way we did. We'll just get them tomorrow."
Phillips' home run gave the Reds the lead back after Matt Holliday drove in Matt Carpenter with a sacrifice fly and Carlos Beltran scored on a throwing error by Votto in the fourth. Carpenter also scored in the sixth to tie the game again after doubling and racing home on a Beltran single.
That was the final run surrendered by Arroyo, who was making his fifth start against the Cardinals this season and his first since giving up seven runs in just 3 2/3 innings on Aug. 2. Wednesday brought much better results, as Arroyo went seven innings and allowed just two earned runs on seven hits.
But after Arroyo finished his day, it took another full game to decide Wednesday's winner.
Adams appeared to have the game won for the Cardinals in the 14th when he connected on his first solo homer, but the Reds bounced back in the bottom of the frame. Ryan Ludwick led off the inning with a single, and for the second time in two days, he was replaced by basestealing extraordinaire Billy Hamilton. Like he did on Tuesday, when he scored the game-winning run, Hamilton successfully stole second before coming around to even the score on a Cozart single.
Two innings later, Adams struck again, and this time the Cardinals finished the deal.
"That was just a character win," St. Louis manager Mike Matheny said. "The guys just kept grinding, not giving up or giving in. The job the young bullpen did holding them down was impressive. That's one of those wins you don't forget. Adams has been so good all season for us in different positions. He's got that kind of power."
After winning the first two games of the series, the Reds fell back to 2 1/2 games behind the second-place Cardinals in the National League Central. Thanks to a Pirates loss, though, Cincinnati remained 3 1/2 games out of first place.
Although the Reds are still well within striking distance, Wednesday's loss felt like a series of missed opportunities that led to one big one.
"Definitely, especially when you play that many innings and you have a couple runners in scoring position," Arroyo said. "We were fortunate to come back and tie it there late in extra innings, and then they hit another homer. That's just the way it goes."
Jeremy Warnemuende is an associate reporter for MLB.com. This story was not subject to the approval of Major League Baseball or its clubs.