Nats prevail; Zimmermann earns NL-best 16th win
Nats prevail; Zimmermann earns NL-best 16th win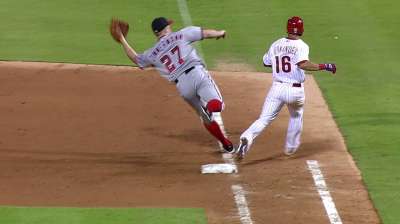 PHILADELPHIA -- Jeff Kobernus' speed and some defensive wizardry by catcher Jhonatan Solano are the main reasons the Nationals were able to down the Phillies, 3-2, at Citizens Bank Park on Wednesday night.
The Nationals are 6 1/2 games behind the Reds for the second and final National League Wild Card spot following Cincinnati's 5-4 loss to St. Louis in 16 innings at Great American Pall Park.
The score was tied at 2 when Washington took the lead in the top of the eighth inning off left-hander Jake Diekman. Wilson Ramos led off with a single and was taken out of the game for Kobernus, who is a faster runner.
After Scott Hairston sacrificed Kobernus to second, Kobernus took note of Diekman's slow delivery to the plate and easily stole third, setting himself up to score on a fielder's choice. The Phillies had the infield in when Steve Lombardozzi hit a chopper to second baseman Chase Utley, who couldn't throw out Kobernus at the plate.
"I was going on contact. I was trying to get a good jump in case he hit [the ball] like that. Fortunately, he hit it right on the spot, and I was able to score," Kobernus said.
Solano saved the game in the bottom of the inning. The Phillies had runners on first and third with one out. Craig Stammen struck out Darin Ruf on a slider, but the ball went by Solano. Utley attempted to score, but Solano got back in time to tag him out and end the inning.
"I thought Solano was going to flip it, but he had a good read on it and made the great play," manager Davey Johnson said.
For a brief second, Stammen was upset that Solano didn't throw him the ball, but the replay showed that Solano didn't have a choice but to tag Utley himself, for Utley would have been safe if Stammen made the tag.
"Looking at the replay, [Solano] knew what was going on," Stammen said.
Solano said that the slider Stammen threw was a tough pitch to block.
"I saw Utley started running to home plate. I tried to get the ball and tag him because I didn't see Stammen at all on that play," Solano said. "When I saw Stammen for the first time, Utley was running already. If I threw the ball to Stammen, I had no chance."
After the game, Ramos congratulated his replacement, Solano, for the great play, then said, "You are going to play tomorrow."
(The joke is that the Nationals have an off-day on Thursday.)
But that wasn't the only great play made by the Nationals. In the seventh inning, Philadelphia had runners on first and second with two outs. Cesar Hernandez hit a grounder between first and second that went by first baseman Adam LaRoche. So Lombardozzi grabbed the ball and made the throw, which bounced, to starter Jordan Zimmermann, who made a nice scoop to get Hernandez at first.
And it's a good thing Zimmermann was able to get the out, as John Mayberry Jr. likely would have scored from second on the play.
"When I saw Lombo make the play over there, I knew I was going to be at the bag. He threw it in the dirt. I have to give [LaRoche] credit. He taught me everything I know over there," Zimmermann said.
The Nationals had Phillies starter Roy Halladay on the ropes early. In the first inning, Washington loaded the bases twice but scored just one run, when LaRoche's sacrifice fly scored Denard Span. Washington reloaded the bases after Ian Desmond drew a walk, but Ramos hit into a double play to end the threat.
After getting two quick outs in the sixth inning, Halladay found himself in trouble again with the bases loaded, but Zimmermann struck out to end the inning.
"We couldn't zone hit because LaRoche swung at a ball that could have went 3-0. Ramos the same way," Johnson said. "The ball was around his ankles, and he hits into a double play. We just have to be better. When he is in that kind of trouble, we have to make him throw it right in the middle and then swing.
"I felt sorry for [Halladay] the first couple of innings, then I was hating him as he was went along because he got better. He started making better pitches with his fastball and his cutter."
Philadelphia had given Halladay a one-run lead in the second inning. Hernandez doubled down the third-base line, scoring Cody Asche and Mayberry.
Zimmermann pitched seven innings, allowing just those two runs on seven hits en route to winning a National League-leading 16 games.
After Halladay left the game, the Nationals tied the score against right-hander Zach Miner, with Ryan Zimmerman hitting a mammoth home run over the left-field wall.
"Frustrating one here," Phillies interim manager Ryne Sandberg said. "It was a heck of a game. We had our chances. Seventh inning, second and third and one out. Didn't get anyone in. That inning ended with an unbelievable play by Lombardozzi and Zimmermann, who made an incredible pickup at first. In the eighth, first and third, left him stranded with a K. The close play at the plate, it looked like [Solano] just got him."
Bill Ladson is a reporter for MLB.com and writes an MLBlog, All Nats All the Time. He also could be found on Twitter @WashingNats. This story was not subject to the approval of Major League Baseball or its clubs.