Murphy's go-ahead jack lifts Cubs in finale
Murphy's go-ahead jack lifts Cubs in finale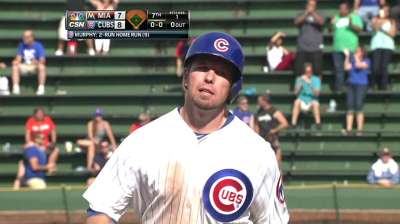 CHICAGO -- The Cubs have hit the most home runs at home in the National League, but they haven't been able to get many wins to go with them. On Wednesday, they finally matched up.
Starlin Castro, Dioner Navarro and Ryan Sweeney each hit a solo home run, and Donnie Murphy smacked a go-ahead two-run blast in the seventh to lift the Cubs to a 9-7 victory over the Marlins at Wrigley Field to fend off a sweep.
The Cubs now have hit 94 home runs at Wrigley Field, tied with the Orioles for the most at home, but Chicago won at Wrigley for just the sixth time in the last 25 games.
"That's one of those games we haven't had quite a bit at home," Cubs manager Dale Sveum said. "Then the Murphy Show continued."
Murphy, who made his Cubs debut Aug. 4 and led the team that month with eight home runs, slugged his ninth of the season in the seventh inning. The Cubs trailed 7-4 after Navarro's throwing error allowed Donovan Solano to score from third in the Marlins' seventh. Chicago had two on and none out, and both runners scored on Navarro's single down the left-field line off A.J. Ramos. Ryan Webb took over, and Murphy sent the first pitch into the left-field bleachers.
Murphy is now batting .333 (11-for-33) from the seventh inning on, with six home runs and 10 RBIs.
"I've come through in those situations before, and for some reason, I'm comfortable in them," Murphy said. "It's not pressure on me, it's the pitcher who has to throw the ball over the plate."
Plus, Murphy had a slight edge -- he played with Webb on the Marlins.
"I have the luxury of playing with those guys," Murphy said. "I know he's a sinkerball guy. I didn't want to get beat with a sinkerball. I was looking for a first sinker, and he gave it to me, and I put a good swing on it."
Webb knew Murphy, too.
"He did exactly what I wanted him to, swing at a two-seamer, and he just got underneath it," Webb said. "It doesn't happen too often, but I missed my spot. I was trying to go down and away, and I went down and in, right where he was looking for it, I guess."
Murphy was second in the NL in home runs in August, and he is batting .276 in 27 games.
"He's healthy," Sveum said, explaining Murphy's success. "In his Major League career, he's been hurt and on the [disabled list] quite a bit, and he hasn't been given much of a chance."
Murphy is making the most of this opportunity, but he also isn't looking too far ahead. Who knows who the Cubs' third baseman will be in 2014?
"It's that point of the year where I'm starting to think about [next year] a little more, but at the same time, I'm not trying to get too far ahead of myself," Murphy said. "I don't want to get ahead of myself and start thinking about one thing and it affects your play on the field. It is that point in September when you start thinking about [next year] a little more."
Chicago starter Jeff Samardzija is focused on right now, trying to get to 200 innings this season. The right-hander struck out nine over six innings, and he now has 190 strikeouts this season, which ranks among the NL leaders.
"My baseball command has been spotty," Samardzija said. "It needs to be better. Two home runs, you have to avoid those and stay out of the middle of the plate and, obviously, you can't have guys on when that happens, too."
Miami had a runner at first in the second with one out when Logan Morrison launched the first pitch he saw from Samardzija over the right-field bleacher seats for his fifth home run.
With two outs in the Chicago second, Junior Lake and Darnell McDonald hit back-to-back doubles against Marlins starter Brian Flynn, who was making his Major League debut, to make it 2-1.
Castro tied the game with an opposite-field leadoff home run in the third off a 2-0 pitch from Flynn, and two outs later, Navarro smacked his 12th homer to go ahead, 3-2.
But the Marlins loaded the bases with one out in the sixth on back-to-back singles by Giancarlo Stanton and Justin Ruggiano and a walk to Morrison, setting up Adeiny Hechavarria's grand slam, his third home run of the season and second slam this year.
Navarro has provided more offense than any backup catcher the Cubs have had, batting .305 with 12 home runs.
"Since we lost [Alfonso] Soriano [in a trade], we haven't had that guy to sit in the four-hole and produce," Sveum said. "[Navarro] has produced all year."
With the win, the Cubs won the season series for the first time since 2010.
"Give them credit, they got some big hits," Marlins manager Mike Redmond said. "And we still had a chance there at the end, [runners on] first and second, with the bulk of our order coming up."
Carrie Muskat is a reporter for MLB.com. She writes a blog, Muskat Ramblings, and you can follow her on Twitter @CarrieMuskat. This story was not subject to the approval of Major League Baseball or its clubs.