Marlins fall as lead slips after Hechavarria's slam
Marlins fall as lead slips after Hechavarria's slam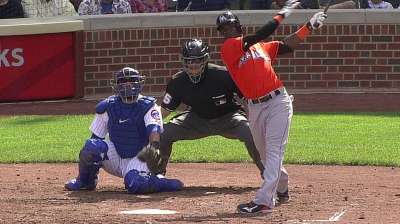 CHICAGO -- The Marlins' bullpen played a key role in Tuesday night's win over the Cubs, turning in 4 2/3 hitless innings. On Wednesday afternoon, Miami's relievers were far from duplicating that effort.
Ryan Webb gave up a go-ahead two-run homer to Donnie Murphy in a four-run seventh inning that sunk the Marlins, 9-7, in left-hander Brian Flynn's Major League debut at Wrigley Field.
"I came in with a runner on first and I needed a ground ball," said Webb, who took the loss. "And I know Murphy's an aggressive hitter. He did exactly what I wanted him to -- swing at a two-seamer -- and he just got underneath it. It doesn't happen too often, but I missed my spot. I was trying to go down and away, and I went down and in, right where he was looking for it, I guess."
"I know he's a sinkerball guy," Murphy said. "I didn't want to get beat with a sinkerball. I was looking for a first sinker, and he gave it to me, and I put a good swing on it."
Holding a 7-4 lead in the seventh, A.J. Ramos issued two walks and gave up a two-run single to Dioner Navarro that cut the lead to one. Manager Mike Redmond then brought in Webb, whose first pitch to Murphy was driven over the wall in left to give the Cubs the lead.
"Last night, the bullpen came in and was lights-out, and today, it just didn't happen," Redmond said. "I figured with A.J. coming in -- he's done so well -- and with the lead in so many different situations. And he walked the first two guys, and after that, it was just trying to hold on tight."
It was a wild ride all afternoon.
With the Marlins trailing, 3-2, in the sixth, Adeiny Hechavarria gave Miami a three-run lead with a grand slam off Cubs starter Jeff Samardzija, the second of Hechavarria's career and second this season.
Hechavarria also tied a career high with three hits on the day.
"I was just looking for a good pitch to hit -- not necessarily a fastball or an offspeed pitch, just a good pitch to hit," Hechavarria said through translator and third-base coach Joe Espada. "And I got it."
The Marlins jumped out to an early 2-0 lead in the second, when Giancarlo Stanton reached on an infield single and Logan Morrison crushed a two-run homer to the back of the bleachers in right field.
Donovan Solano tripled in the seventh and scored on a throwing error by Navarro, who tried to pick him off at third, for Miami's seventh run.
Flynn gave up back-to-back doubles to Junior Lake and Darnell McDonald in the second, which put the Cubs on the board. In the third, the rookie left-hander gave up two solo homers to Starlin Castro and Navarro, which gave the Cubs a 3-2 lead.
Chicago scored another run on a Ryan Sweeney homer in the sixth off of reliever Arquimedes Caminero, and tacked on a final run in the eighth on a Castro RBI double off of Chad Qualls.
Flynn went four-plus innings, allowing three runs on six hits while walking three and striking out two. He also recorded his first Major League hit, with a single to center in the fifth inning.
"Red came out and said, 'You got your first Major League hit.' I said, 'I'll trade it for a few more zeroes,'" Flynn said. "It's one of those things where you dream about this day for awhile, and you'd like to have your best stuff. But you've got to fight through it.
"I was behind in the count and up in the zone, and good hitters are going to do that to you. It's one of the things I pride myself on is not doing that stuff, especially after the team went out and put us up by two. So that was kind of a letdown for me."
"Flynn, I thought he was OK," Redmond said. "He was a little bit wild in the zone, and they got some decent hitters' counts and got a couple runs off him."
As for what he thinks happened with the bullpen's performance, Redmond said it's a matter of young pitchers gaining valuable experience.
"Sometimes [it's] youth," he said. "We've seen that a few times, where one night a guy comes in and he's lights-out, and the next night you put him in the same situation and they struggle.
"But part of the process of learning at the big league level is you've got to be able to execute and dial in your pitches every single day. It's not easy."
"That's something I definitely work on is to, no matter when I come in, be consistent [and] be the same guy every time," Ramos said. "It's been one of the things I've been struggling with, coming into different situations and I seem to pitch differently for different situations.
"The more you're out there, the more you learn to be the same guy every time. It's just a matter of experience."
Despite a rough outing in his big league debut, Flynn said he's also looking to learn from the experience.
"It's one of those things where you learn from the experience," Flynn said. "There's no better way to learn from it than giving up some home runs. … It'll be nice to get back in a routine here and get back on the mound in the bullpen, iron things out and be sharper next time."
Manny Randhawa is an associate reporter for MLB.com. This story was not subject to the approval of Major League Baseball or its clubs.