Choice relishes first hit, playing time in pennant race
Choice relishes first hit, playing time in pennant race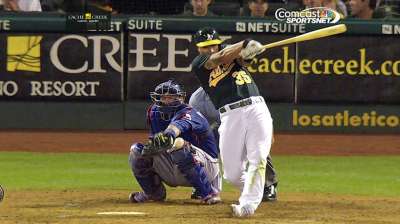 OAKLAND -- No, it wasn't how he dreamed growing up, but Michael Choice gladly accepted the ball from his first Major League hit -- a dribbler toward the pitcher's mound that he beat out in Tuesday's 5-1 loss to the Rangers.
"It's not exactly how I drew it up," Choice said, smiling, "but I'll take it."
The hit came in just his second Major League game one day after walking in his first big league plate appearance. On Tuesday he got the start in right field, and he responded with a pair of highlight-worthy catches.
"He's a top prospect in our organization for a reason," A's manager Bob Melvin said. "He's also here for a reason, so I've been impressed."
Choice, the 10th overall pick in the 2010 First-Year Player Draft and the A's No. 2 prospect as rated by MLB.com, batted a career-high .302 with 14 home runs and a career-high 89 RBIs in 132 games with the Triple-A River Cats this season and also had career highs in runs (90) and on-base percentage (.390).
"I wanted to elaborate kind of on where I left off in Sacramento," Choice said. "I was seeing the ball, swinging at pitches in the zone, and I wanted to stay right there."
It first appeared that Choice's callup was simply a reward for a productive Minor League season, but Melvin has proven early on that Choice's role with the team extends past that of the average September callup.
"I really didn't know the plan exactly coming in," Choice said. "Melvin told me I was here for a reason, to help this team and come in in spots where I could hit against left-handers, and I was prepared to do that.
"It puts me in a place where I know when I step on the field I'm out there because everybody believes I can make something happen, versus getting a pinch-hit up 7-1 in a random game. It kind of takes the pressure off."
Jane Lee is a reporter for MLB.com. Jeff Kirshman is an associate reporter for MLB.com. This story was not subject to the approval of Major League Baseball or its clubs.