Club weighs interest on Japanese star Tanaka
Club weighs interest on Japanese star Tanaka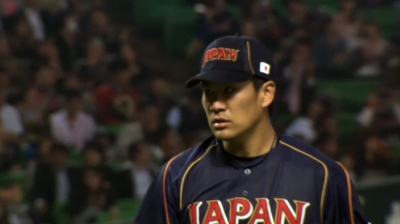 OAKLAND -- The Rangers aren't planning to make the same big push for Japanese pitcher Masahiro Tanaka as they did two years ago for Yu Darvish.
Tanaka could be the next big Japanese star to come to the United States if he is posted by the Tohuku Rakuten Golden Eagles this winter. The Rangers have scouted Tanaka, who turns 25 on Nov. 1 and is 19-0 with a 1.20 ERA in 22 starts, but right now they don't see him on the same level as Darvish.
The Rangers landed the rights to Darvish by submitting a $51.7 million posting fee. They ended up signing him to a six-year, $56 million contract.
Darvish had a 1.99 ERA in seven seasons in Japan while averaging 6.5 hits, 2.4 walks and 8.9 strikeouts per nine innings. Tanaka has a 2.32 ERA over seven seasons while averaging 8.1 hits, 1.9 walks and 8.5 strikeouts per nine innings. The report on Tanaka is he has good secondary pitches, but not the same overpowering fastball as Darvish.
Darvish will be a part of the Rangers rotation next season that will include Derek Holland and Martin Perez. The club also expects Matt Harrison to be at full strength after missing almost an entire season because of back surgery. Nick Tepesch would be the early leading candidate for the fifth starter spot if the Rangers don't re-sign Matt Garza, who is a free agent after this season.
The Rangers also have to decide what to do with Alexi Ogando and Neftali Feliz, internal conversations they expect to have in the offseason. Ogando was moved back to the rotation this season and was 5-4 with a 3.47 ERA in 15 starts. But he has also been on the disabled list three times. Feliz was the Rangers closer in 2010-11 before moving into the rotation in 2012. He was 3-1 with a 3.16 ERA in eight outings before coming down with the elbow problems that led to Tommy John reconstruction surgery.
Ogando, who was activated Tuesday, said he would like to remain as a starter. Feliz is working out of the bullpen right now since being activated Sunday and is non-commital about his future role.
"I don't know if my future is as a starter or a reliever," Feliz said. "Right now I'm trying to help the team in the bullpen as best I can."
T.R. Sullivan is a reporter for MLB.com. Read his blog, Postcards from Elysian Fields, and follow him on Twitter @Sullivan_Ranger. This story was not subject to the approval of Major League Baseball or its clubs.