Pierzynski starts day after home-plate collision
Pierzynski starts day after home-plate collision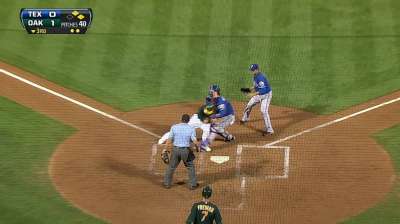 OAKLAND -- Rangers catcher A.J. Pierzynski was back in the lineup Wednesday afternoon, one day after his collision at home plate with Athletics infielder Josh Donaldson.
Donaldson was trying to score from second on an infield hit. Rangers shortstop Jurickson Profar made a diving stop in the hole and threw from his knees to get Donaldson as he crashed into Pierzynski at the plate.
"It was OK," Pierzynski said. "I wish I had a little more time to get the ball and get ready. It was OK. I've been hit harder and I've been hit softer. It was clean and his only option at that point. It's part of the game. It's what I signed up for. I'm glad they haven't outlawed it. It's still an exciting play."
There have been discussions about the possibility of doing more to protect the catcher, especially since Giants catcher Buster Posey missed most of 2011 with a broken left leg from a collision at home plate. But Pierzynski is not in favor going out of the way to protect the catcher.
"No…it's what we signed up for as a catcher," Pierzynski said. "As long as they don't go out of their way when you don't have the baseball … when you have the ball, you expect it. It's part of the game. I have been hit plenty of times."
Pierzynski tried to help Donaldson up, but the offer wasn't accepted. But they did chat when Donaldson came to the plate the next time up.
"When I came up in my third at-bat, I said, 'Hey, you OK?'" Donaldson said. "He said, "Yeah,' and he asked me if I was OK. Hopefully there's no hard feelings. It was the only play I really had there because I made a boneheaded mistake."
T.R. Sullivan is a reporter for MLB.com. Read his blog, Postcards from Elysian Fields, and follow him on Twitter @Sullivan_Ranger. This story was not subject to the approval of Major League Baseball or its clubs.