Two homers back solid Gee as Mets roll
Two homers back solid Gee as Mets roll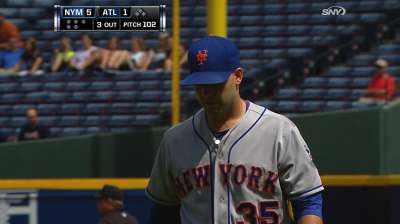 ATLANTA -- Looking back, Mets manager Terry Collins said, it seemed obvious earlier this season that something was not right with Dillon Gee. Though Gee insisted he was healthy in his return from a career-threatening blood clot and artery tear in his right shoulder, Collins noted that "in the back of your mind, you're always waiting for it to hurt."
If Gee agrees, he refuses to use that as an excuse for the dreadful April and May that nearly led to his banishment from the rotation. If not, his turnaround has still been remarkable.
With another seven strong innings Wednesday in a 5-2 win over the Braves, Gee further entrenched himself as one of the game's best pitchers since late May, building a statistical profile comparable to those of Clayton Kershaw, Max Scherzer and the rest of Major League Baseball's top starting pitchers.
"Hopefully, what I've done has just showed that I can bounce back," said Gee, who has established career highs in starts, innings and strikeouts. "I still have the confidence to believe in myself to come out of such a deep hole, and turn myself around."
Now flying well above the depths of that abyss, Gee's pitching combined with some early power hitting Wednesday to help the Mets snap a three-game losing streak. After Gee walked the first batter he faced and Eric Young Jr.'s fielding error put runners on the corners with one out in the first, the right-hander struck out Evan Gattis and Gerald Laird to key a run of four consecutive scoreless innings.
A leadoff single in the fifth led to the only run against Gee, via B.J. Upton's sacrifice fly. It was one of merely four hits -- all singles -- that Gee allowed on the afternoon, throwing 78 of his 102 pitches for strikes.
"He's a guy that can pitch," Braves third baseman Elliot Johnson said. "You guys saw what he did. He's got three pitches or four that he's throwing in the strike zone whenever he feels like it. If you've got four pitches that you can command, it's going to be a tough day at the plate. It's hard to get on anything in particular, especially when he's throwing strike one every time."
It helped that Gee never pitched without a lead, taking the mound only after Andrew Brown put the Mets on the board with a two-run homer off Kameron Loe in the first. Two innings later, Lucas Duda led off with a homer, and the Mets scored twice more on Juan Lagares' RBI fielder's choice and Gee's run-scoring single.
Duda, who finished 3-for-5 with a homer and a double, credited his recent offensive surge -- a .480 on-base percentage since returning from the Minors last week -- to feeling relaxed at first base, his natural defensive position.
---
"I was never the highly touted guy. Pretty much every time I pitched, I had my bags packed ready to go to Triple-A, so I'm used to it. I actually kind of feed off it a little bit. Every start I have now, I want to go out and prove that I should be here."
-- Dillon Gee
---
"I'm much more comfortable at first, and it kind of takes the pressure off me on defense," Duda said. "It's just comfort level, I guess."
By the time the Braves began flexing their playoff-bound offensive muscle, rapping out consecutive extra-base hits against Vic Black in the eighth, the Mets already had the game reasonably in hand.
For that, they could thank Gee, who was uncertain of his career path after undergoing emergency surgery last July to dissolve a blood clot and repair an arterial tear in his shoulder. No assurances came in April and May, when Gee stumbled so badly that he was one or two bad starts away from losing his spot in the rotation.
By the night of May 30, sitting on a 6.34 ERA, Gee was convinced a poor outing at Yankee Stadium would mean a demotion to the bullpen. He responded with one of the best games of his career, and he has not looked back since, delivering numbers comparable to those of the best pitchers in baseball.
"That game, it just seems like I started throwing the way I was supposed to throw," Gee said. "I've been able to do that since then."
On Wednesday, Gee lowered his ERA since that night to 2.40, fifth best in the Majors over that span. It's not only better than the marks that Matt Harvey, Scherzer and Yu Darvish have put up since late May, but also within spitting distance of Kershaw, the National League's Cy Young Award shoo-in.
A former 21st-round Draft pick who never ranked among the Mets' top 10 prospects at any point in his development, Gee figures he is simply at his best when forced to fight for his baseball life. So it should be an interesting situation for him next spring, when -- barring something completely unexpected -- he will head to Florida with a job already in hand.
"I was never the highly touted guy," Gee said, referring to his first full season in 2011. "Pretty much every time I pitched, I had my bags packed ready to go to Triple-A, so I'm used to it. I actually kind of feed off it a little bit. Every start I have now, I want to go out and prove that I should be here."
Anthony DiComo is a reporter for MLB.com. Follow him on Twitter @AnthonyDicomo. This story was not subject to the approval of Major League Baseball or its clubs.