Reliever Zeid experimenting with new arm angle
Reliever Zeid experimenting with new arm angle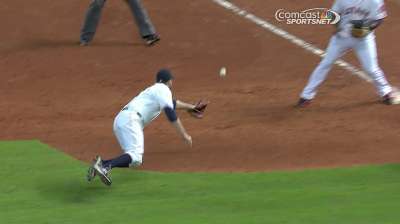 HOUSTON -- If you were paying close attention in the latter innings of Tuesday's loss to the Twins, you might have noticed something a little different about relief pitcher Josh Zeid.
Zeid has begun experimenting with a sidearm delivery on a few of his pitches, which gives the hitters a different look and him another weapon. The initial results were good, considering Zeid threw a career-high three scoreless innings in the loss to Minnesota.
"It's in its infancy," Zeid said. "It's not a finished product, but it's something that can help myself and my ballclub down the road."
Zeid has thrown from a sidearm slot before in high school and early in his professional career, but he hadn't done it since he was traded to the Astros organization in 2011. He approached pitching coach Doug Brocail about throwing some pitches sidearm and went with it Wednesday.
"Over the last six or seven outings, I'm not getting weak contact and I'm not striking people out like I used to," Zeid said. "So I brought it to [Brocail] and I said, 'Hey, I can throw strikes from there.' It's late in the season and the arm is tired, so I dropped down, and those are the hardest fastballs I threw yesterday from a low three-quarters or almost sidearm [slot].
"If at any point a hitter says, 'What was that?' Then it served its purpose. As long as it doesn't take way from throwing over the top, it will be fine."
Zeid said he threw about six pitches from his lower arm slot. He can throw four-seamers, two-seamers and sliders from that position.
"It made me feel good," he said. "It was really reassuring to me that maybe it's a weapon I can use. I don't want to use it all the time. I don't want to become a sidearmer. Maybe I have to add it more and more, but right now it's a weapon I use."
Brian McTaggart is a reporter for MLB.com and writes an MLBlog, Tag's Lines. Follow @brianmctaggart on Twitter. This story was not subject to the approval of Major League Baseball or its clubs.