Three D-backs' affiliates make postseason
Three D-backs' affiliates make postseason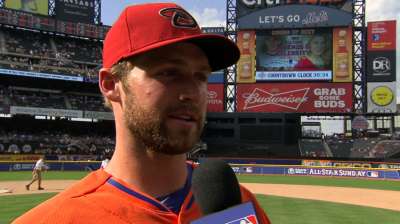 PHOENIX -- The No. 1 goal for D-backs director of player development Mike Bell is obviously to get players through the system and to the point where they can contribute at the big league level.
While development is the main mission, that doesn't mean that winning is unimportant.
For the second year in a row the D-backs have at least three affiliates in the playoffs. Last year, five affiliates made the postseason, with three winning their leagues and Triple-A Reno winning both the Pacific Coast League and Triple-A championship.
This year, Double-A Mobile and the Class A teams in Visalia and South Bend qualified for the playoffs.
"We think that having teams in the playoffs affords us a little more time to develop our guys," Bell said. "They get experience in that atmosphere where there's a little more pressure. It allows us to watch how guys perform. It feels like you always find out something about somebody in that setting."
Winning is also important in developing players, the D-backs believe, because it sets the tone for the proper approach to playing team-oriented baseball.
"We talk to our guys about being good teammates a lot," Bell said. "My message to them and our staff's message to them is: When you put a focus on winning and trying to one thing every night to help your team win, that's the way you're going to play your best baseball. It makes you feel good, because I feel like our teams are doing that and they're being rewarded for it."
Steve Gilbert is a reporter for MLB.com. Read his blog, Inside the D-backs, and follow him on Twitter @SteveGilbertMLB. This story was not subject to the approval of Major League Baseball or its clubs.