Bautista to miss rest of season with bone bruise
Bautista to miss rest of season with bone bruise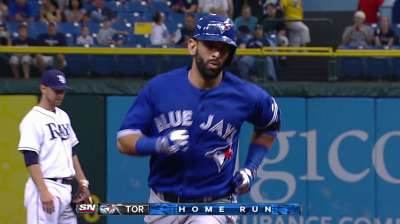 PHOENIX -- For the second straight year, Jose Bautista's season will end early, as the Blue Jays announced on Wednesday the veteran right fielder will be shut down. Although Bautista first went on the disabled list on Aug. 21 with what was described as a bone bruise in his left hip, the 32-year-old has now been diagnosed with a bone bruise in his left femur, near the top of the leg.
Bautista, whose season ended abruptly last year when he underwent wrist surgery in August, visited Dr. Bryan Kelly in New York earlier this week and learned he'd need to rest two more weeks before beginning baseball activities. With that knowledge, the Blue Jays decided there wasn't much to gain by rushing him back for a few games at the end of the month.
"It's been healing really nice with good progression, but we'd only have a handful of games left so he recommended we shut it down," Bautista said. "It's not exactly how I wanted to end the season, but there's not much you can do once you have an injury. I have no choice but to follow the doctor's recommendation. It's the timing of it, and obviously the fact that we're not in contention plays a little bit into the decision making. It's a combination of all those things."
Even though he isn't exactly sure when he suffered the injury, Bautista estimated it occurred sometime shortly after the All-Star break. He continued to play hurt for the next month before the discomfort became too much for him to ignore.
The Blue Jays expect Bautista to be completely healed long before the club opens camp next spring in Florida, but that small silver lining didn't provide much comfort to the four-time All-Star, who admitted his frustration with not being able to finish a season again.
"It's really tough, I'm one of those players that takes a lot of pride in working out hard and coming in really good shape in the offseason," he said. "Unfortunately, I've had two impact plays that have prevented me from finishing the season strong the last two years. I'm hoping I have better luck next year. By resting it now and not making it worse, I'll be 100 percent and not have any issues moving forward."
Bautista finishes 2013 batting .259 with 28 homers, 73 RBIs and an .856 OPS.
Tyler Emerick is an associate reporter for MLB.com. This story was not subject to the approval of Major League Baseball or its clubs.