Bloomquist's single snaps D-backs' three-game slide
Bloomquist's single snaps D-backs' three-game slide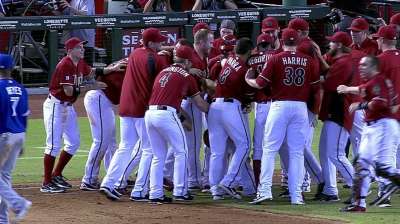 PHOENIX -- Wednesday was a travel day for the D-backs, so that could only mean one thing.
Extra innings.
The D-backs beat the Blue Jays, 4-3, thanks to Willie Bloomquist's walk-off single in the 10th, as they avoided a sweep in the three-game series.
Arizona boarded a charter flight for San Francisco after the game and will open a four-game set with the Giants on Thursday.
It was the 10th time this year the D-backs have played extra innings on a day they were scheduled to travel, and they are 10-0 in those games.
The D-backs have played 21 extra-inning games this year, matching the franchise record set in 1999. They are 16-5 in those games, including 13 walk-off wins
"Extra innings on a travel day is incredible, it's just an incredible record," D-backs manager Kirk Gibson said. "We've been good in extra innings, period. It makes you feel good when you get there. We're very confident. The bullpen did a good job shutting them out. So overall, just good pitching today and the guys hung in there and got it done."
"It's awesome," outfielder A.J. Pollock said. "It's exciting winning that way. You hope you can mix in a few easy ones, but a win is a win."
Wednesday was a much-needed victory after the D-backs had dropped the first two games of the series and five of their last six. The first time the D-backs led in the entire three-game set was when Bloomquist drove home the game-winner.
Eric Chavez started the winning rally with a one-out single to left and Adam Eaton replaced him as a pinch-runner.
Pollock followed with a single to right that advanced Eaton to third, and Bloomquist was then able to line a 100-mph fastball from Toronto reliever Jeremy Jeffress to center.
"I just was trying to hit a ball to the outfield the first couple of pitches," Bloomquist said. "And the second one, he blew right by me and I don't think I started swinging until the ball was in the glove, and I said 'Geez, I knew he had a good arm, but I haven't seen that in a while. I'll have to start a little bit sooner on the next one.' Fortunately, I got a good pitch to hit and was able to get the good part of the bat on it."
Gibson cited Bloomquist's quick, short stroke as the reason he was able to barrel up a 100-mph pitch.
It was Bloomquist's third hit of the day and the fourth walk-off hit of his career.
"Bloomquist hit a 100-mph fastball," Jays manager John Gibbons said. "That guy is just a winner, if you're going to win anything, you need guys like that. Base hit to right, base hit up the middle, that's what good hitters do."
One of the main reasons the Blue Jays never trailed before the end of Wednesday's game was due to scoring 10 runs in either the first or second innings of each game.
On Wednesday, they put together a three-run first inning against Randall Delgado, which included a two-run homer by Rajai Davis -- his second straight game with a home run and fourth of the year.
From that point, Delgado was nearly unhittable.
"Another tough first inning," Delgado said. "But I just tried to keep concentrating, keep working, keep fighting."
The right-hander held the Blue Jays to only one hit the rest of his outing before he was pinch-hit for in the seventh. Delgado struck out six and didn't walk a batter.
"He threw the ball outstanding," Bloomquist said of Delgado. "Gave up a few runs early, but was outstanding the rest of the day -- working ahead in the count and getting a lot of contact groundballs and stuff like that. It was great playing behind him. He did a good job keeping us in the game the rest of the way."
The D-backs chipped away at the lead in the second, as they scored a pair of runs -- one of which was unearned thanks to an Edwin Encarnacion error at first -- on RBI doubles by Matt Davidson and Miguel Montero.
Arizona tied the game in the seventh on Chavez's sacrifice fly, one batter after Blue Jays starter Mark Buehrle was taken out of the game.
Steve Gilbert is a reporter for MLB.com. Read his blog, Inside the D-backs, and follow him on Twitter @SteveGilbertMLB. This story was not subject to the approval of Major League Baseball or its clubs.