Cubs add 'Zero' Lim to bullpen, designate Bowden
Cubs add 'Zero' Lim to bullpen, designate Bowden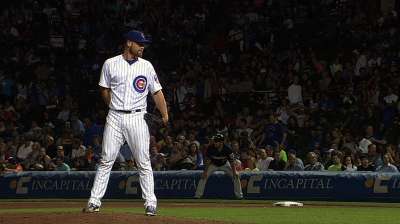 CHICAGO -- Dale Sveum admitted he didn't know much about new Cubs reliever Chang-Yong Lim except his nickname, "Zero." The right-hander knows a little about the Cubs.
"Obviously, the curse for 100 years," Lim said through his interpreter, Tae Kim. "I heard about it. Hopefully, maybe they can make a change."
The Cubs added another arm Wednesday, selecting the contract of Lim, 37, from Triple-A Iowa. To make room on the 40-man roster, right-handed pitcher Michael Bowden was designated for assignment.
Lim, a sidearm pitcher, signed a two-year contract with the Cubs this past offseason as he continued his recovery from Tommy John ligament replacement surgery in 2012. He pitched at four levels in the Cubs' Minor League organization, reaching Iowa at the end of July. He gave up one earned run over 11 1/3 innings in 11 outings.
In 21 Minor League appearances, Lim gave up four earned runs over 22 1/3 innings, making five starts. He struck out 24 and walked seven, holding batters to a .173 batting average.
Before joining the Cubs, Lim had pitched 17 seasons professionally in Korea (1996-2007) and Japan ('08-12). He also has pitched for Korea in a number of international events, helping his country to a bronze medal at the '00 Summer Olympics and the silver medal in the '09 World Baseball Classic.
"His nickname is 'Zero,'" Sveum said when asked about the newest reliever. "He's coming back from a couple injuries, and has been pitching well for us in the Minor Leagues. He'll come up here and we'll see what we've got."
Lim said pitching in the Major Leagues was a natural progression after pitching in Korea and Japan.
"I want to see how it feels like," he said about pitching in the U.S. "I'm nervous and excited."
Bowden went 1-3 with a 4.30 ERA in 34 relief appearances with the Cubs this season.
"I wasn't necessarily happy with my performance here," Bowden said. "I've been through this a few times before. It's just part of the game. It's not a big deal. I love playing here, I love playing for the city of Chicago and the fans here, my hometown team, but God has something else in store for me."
Sveum said Bowden gave the team "a lot of tough innings, and [he] did a nice job in the role he had."
With the moves, the Cubs' 40-man roster is now at capacity.
Carrie Muskat is a reporter for MLB.com. She writes a blog, Muskat Ramblings, and you can follow her on Twitter @CarrieMuskat. This story was not subject to the approval of Major League Baseball or its clubs.