Likely done for 2013, Ike gets cortisone shot
Likely done for 2013, Ike gets cortisone shot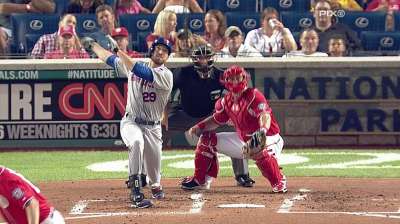 ATLANTA -- As expected, Mets first baseman Ike Davis received a cortisone injection in his right side Tuesday during an examination at the Hospital for Special Surgery in New York. Though the Mets are not officially deeming Davis done for the season, they do not expect him to play again.
"I'd be surprised if he resumes some baseball activities in the next three weeks," manager Terry Collins said.
Davis strained a right oblique muscle taking a swing last Saturday in Washington, an injury that typically sidelines players for at least three weeks. Barring an exceptionally fast recovery, that means Davis will not even be able to begin baseball activities until late September, making a return to active duty impossible.
The Mets will not place Davis on the disabled list because rosters expanded on Sept. 1. In his absence, Lucas Duda and Josh Satin will split time at first base.
General manager Sandy Alderson said Tuesday that he did not believe the Mets could have learned much more about Davis in September, anyway. The organization must decide this winter whether to offer Davis his second year of arbitration or non-tender him, knowing the arbitration process would almost certainly earn him a raise over the $3.1 million he made this season.
Davis was hitting .161/.242/.258 with five home runs, 66 strikeouts and 19 walks on June 9, the day the Mets demoted him to the Minors. He hit .267/.429/.433 with 35 strikeouts and 38 walks after his return, but with just four home runs in 170 plate appearances. Coming into the season, Davis averaged one home run every 23 plate appearances for his career.
Anthony DiComo is a reporter for MLB.com. Follow him on Twitter @AnthonyDicomo. This story was not subject to the approval of Major League Baseball or its clubs.