Improved command spurs Medlen's return to form
Improved command spurs Medlen's return to form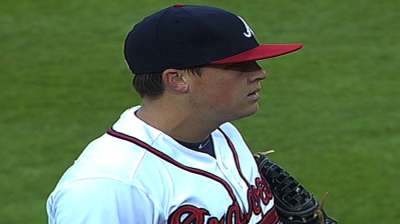 ATLANTA -- It's no coincidence that Braves starter Kris Medlen's success in trimming the walks that contributed to his early-season struggles dovetails with a return to the form he displayed late in the 2012 campaign, when the Braves won 12 consecutive games in which he took the ball.
Over that memorable stretch, Medlen never issued more than two walks in a game following his move from the bullpen to the rotation, but at the beginning of this year, he expressed his frustration with so-called "non-competitive walks," in which he gave the batter first base without a spirited battle simply because he couldn't find the strike zone.
In his first nine starts of 2013, Medlen averaged more than three walks per game, but he has allowed just seven walks in nine appearances since the All-Star break, never issuing more than one base on balls in a single outing. After seven strong frames in Tuesday night's 3-1 win over the Mets, Medlen is riding a streak of 15 straight innings without allowing a walk.
"Even when I was in the 'pen, I had four or five bad outings in a row where I gave up two or three runs each time. Those things are going to happen," Medlen said. "The non-competitive ones where it's like I'm cruising, I'm cruising, I'm cruising -- and then four straight balls. You can't explain it, it happens to everybody. You kind of get in a groove and the muscle memory takes over, and you stay confident and just pound the zone."
Medlen's command and competitive streak have helped lift him out of a trying three-month stretch from late April to late July that pushed his ERA toward 4.00 before he began to right the ship with a string of strong efforts in August.
"Guys will get themselves out no matter how good they are," Medlen said. "I've always trusted myself to attack the zone and just be aggressive, use those odds in my favor, and the more you execute those pitches, the better those odds get, too. It's just something I've done my entire life, really, and something I take pride in, making guys earn the base rather than me giving it to them."
During last season's stretch run, each of Medlen's positive starts pushed the Braves closer to securing a National League Wild Card berth, and though the team has taken much of the drama out of their impressive playoff push this season, Medlen has little trouble feeding off the adrenaline of forcing each hitter into a competitive battle, a pursuit made more manageable by the return of his command to the level he expects.
"I was going to say it's not fun, but it is," Medlen said. "It's fun to get up there, and you almost just want them to get a hit. 'Stop wasting my pitches.'"
Eric Single is an associate reporter for MLB.com. This story was not subject to the approval of Major League Baseball or its clubs.