Oswalt throws scoreless rehab start
Oswalt throws scoreless rehab start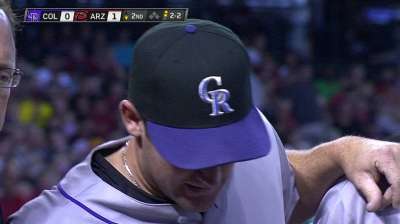 DENVER -- Roy Oswalt is hoping to be back in the Rockies' rotation this weekend after a rehab start with the Rookie-level Grand Junction Rockies on Tuesday night.
"I'm hoping to be in the rotation Sunday, sometime in that frame," Oswalt said.
Oswalt threw 5 2/3 shutout innings, giving up just three hits, walking one and striking out two, and he had no issues with his left hamstring on Tuesday. He had to cover first early and said his hamstring felt tired as he continues to rebuild strength in his leg.
"The last two innings, it feels like you ran a long distance on it," he said after the start. "It doesn't hurt, it's just keep building and hopefully one or two more starts I should be back where I was when I went down."
He attacked the zone and tried to make it through seven innings on his 55 pitches (41 strikes), coming up short of that goal. Oswalt said he threw all his pitches, even trying his hand on a new, harder curveball he's developing.
"It doesn't matter where you're at, doesn't matter how many times you pitched in the big leagues," Oswalt said. "Any time you get competition in front of you, you're going to go a little bit harder than in practice. It's just human nature and competitiveness."
Oswalt, who has finished in the top five for the Cy Young Award five times during his career, landed on the disabled list on July 8 with a strained left hamstring.
Rockies manager Walt Weiss said before the game that Oswalt's rehab start would play a major role in determining when he starts again for the Rockies.
"We're looking to get him back in the mix," Weiss said. "I don't know exactly when that is, but a lot of it will be determined by how it goes tonight and we'll go from there."
Ian McCue is an associate reporter for MLB.com. This story was not subject to the approval of Major League Baseball or its clubs.