Showing poise, Middlebrooks comes through for Sox
Showing poise, Middlebrooks comes through for Sox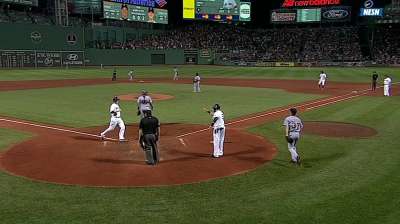 BOSTON -- Will Middlebrooks, with one hit in a week and his average dipping closer to .200 again, could have prompted some dreadful memories.
But this isn't the same player who watched his average go from .320 to .182 in a 10-game stretch in April. He's not the same hitter mechanically, and he's certainly not the same player mentally.
Middlebrooks made what could have been a devastating error in Tuesday's 2-1 win over the Tigers. It wasn't an easy play -- a ground ball hit hard off the bat of Brayan Pena that took a tough bounce before hitting Middlebrooks' glove -- but it was a play he usually makes. So in the middle of a slump at the plate, he added a defensive blunder that left Jon Lester pitching out of a bases-loaded jam against the potent Tigers.
But Lester escaped with no harm, and with a chance for redemption the next inning, Middlebrooks showed his poise.
Against Tigers ace Max Scherzer, who entered with a shiny 19-1 record and had been nearly unhittable for four-plus innings, Middlebrooks was smart. He didn't panic. And he came through with the go-ahead, two-run hit.
"It means more than you guys know," Middlebrooks said. "I'm more excited than I'm showing. But I'm already moving on to tomorrow, to be honest, because we have [Rick] Porcello. About to go watch some video on him, get ready for tomorrow."
Responsible, too.
The old Middlebrooks would have guessed fastball from Scherzer. Scherzer figured that, and Middlebrooks admitted it afterward. But the young third baseman had four previous at-bats against Scherzer in his career, and all four ended with strikeouts.
"I know Middlebrooks," said Scherzer. "I'm thinking about how he's going to approach me in that situation, what pitch I need to execute. … Pena put down slider, and I believed that was the right pitch, because I could see the sequence beyond that, not just the slider first-pitch."
So, too, could Middlebrooks. Fooled already, the 24-year-old was a calm customer. The slider bit hard but caught some of the plate, and Middlebrooks roped it up the middle.
"You find out how a guy's going to come after you," Middlebrooks said. "If I'm getting beat with a fastball in, I'm not going to wait until the next day to go, 'Oh, this team is going to pitch me in.' I'm going into the next at-bat expecting that. Sometimes your approach has to change a little bit. The situation dictates that. The pitcher dictates that. You just have to be able to adapt within an at-bat sometimes."
In 20 games since returning from Triple-A Pawtucket on Aug. 10, Middlebrooks is hitting .323 with five extra-base hits and nine RBIs. He's struck out 17 times but walked nine.
"I know a lot more, and that's credited to all these veterans," he said. "None of these guys gave up on me this year. They're worried about winning -- worried about winning a World Series. It meant a lot to me, when I was going through a hard time, these guys were coming up to me and saying, 'I've been through it, I know what you're going through.'
"When you're in a hole, when you're in a dark place, it's a tough place to struggle, especially on a team like this that comes ready everyday to win. It was nice to have them on my side to help me out."
Jason Mastrodonato is a reporter for MLB.com. Follow him on Twitter @jmastrodonato. This story was not subject to the approval of Major League Baseball or its clubs.