D-backs' bats baffled in front of shaky Miley
D-backs' bats baffled in front of shaky Miley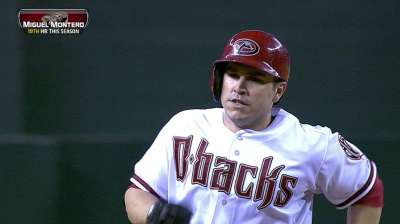 PHOENIX -- The D-backs' homestand went from bad to ugly Tuesday night.
The Blue Jays knocked Wade Miley around and cruised to a 10-4 win over the D-backs at Chase Field.
"I thought we had a great approach on him, taking some balls the other way, which is key on those left-handers; otherwise, they get you to pull, which is what they want," Blue Jays manager John Gibbons said of Miley. "I thought that was big to stay on him out over the plate. He's a good pitcher, but we swung it really well tonight."
The loss was the third straight and fifth in the last six games for the D-backs, who trail the Reds by eight games in the National League Wild Card chase and have fallen a half game behind the Nationals.
"Morale is kind of down a little bit," Miley said. "But it's up to us to turn it around. Kind of have to get it going now if we want to try and save the season at all. We'll see what happens."
A combination of a poor offensive showing and a rough outing for Miley was too much for the D-backs to overcome.
Miley (9-10) came into the game as one of Arizona's best pitchers of late, but Toronto collected three hits in the first to take a quick 1-0 lead.
"Actually the first inning I thought his pitches weren't that bad," D-backs manager Kirk Gibson said. "They were down and away, and they were kind of going with the ball."
That changed in the second, when things unraveled for Miley.
After retiring the first batter of the inning, Miley gave up a bloop double to center before walking the pitcher, Todd Redmond, on four pitches.
That seemed to anger Miley, and he was unable to regroup as the Blue Jays went on to score four runs before Miley was finally removed with two outs, runners on first and second and Toronto leading, 5-0.
"I think he got mad and started overthrowing a little bit, and the ball was up," Gibson said. "He kind of lost his composure. They're a free-swinging team, and they're swinging the bats well, and you can't get behind them, and you can't make mistakes -- they're showing us that in the first two nights."
It was the shortest start of Miley's big league career.
"I got a little upset with myself," Miley said. "Just the fact that I lost it like that. I mean I walked the pitcher on four straight pitches. He ended up scoring; that's a run there. I feel like I've had that same exact stuff and thrown seven innings and given up a couple of runs and given us a chance to win. They had it figured out tonight, and just one of those games you've got to put it behind you and move forward."
Meanwhile, Redmond easily dealt with the Arizona hitters, holding the D-backs hitless through the first three innings.
"He's got a good sinker, and he was throwing a mystery pitch up there for a little while," outfielder Adam Eaton said. "It was a little offspeed pitch -- we didn't know if it was a split or a changeup. Throws decent hard and has good sink on his ball."
The D-backs finally broke through in the fourth, which Eaton led off with a home run, and they added another two runs in the fifth on Didi Gregorius' two-run shot to pull to within 6-3.
But again, it was too little, too late.
"We had opportunities against [Redmond]," Gibson said. "We hit into two double plays with guys in scoring position; actually, those balls were squared up pretty good. Actually had him on the ropes and couldn't get the big hit, can't find the hole. It's a little cruel right now."
Redmond (3-2) became the latest unheralded pitcher to have his way with the D-backs on this homestand, joining teammate Esmil Rogers as well as the Padres' Robbie Erlin and the Giants' Yusmeiro Petit.
Redmond, who spent parts of nine seasons in the Minors, allowed three runs on four hits in five innings of work.
Steve Gilbert is a reporter for MLB.com. Read his blog, Inside the D-backs, and follow him on Twitter @SteveGilbertMLB. This story was not subject to the approval of Major League Baseball or its clubs.