Too early for Dunn to consider retirement
Too early for Dunn to consider retirement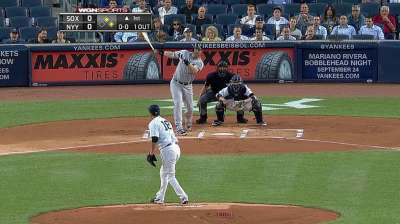 NEW YORK -- Adam Dunn is not retiring.
At least, he wasn't planning to following Tuesday's 6-4 loss to the Yankees, with New York rallying for five runs in the eighth to claim victory. But earlier in the day, in an interview with Ken Rosenthal of FoxSports.com, Dunn reiterated a point he made two years ago and has made a few times since.
If he's not enjoying himself playing baseball, he will walk away from the game. It doesn't matter that the White Sox still owe him $15 million for next season, which was a point Dunn stressed in the FoxSports.com article.
Dunn seemed a bit surprised to be asked about his plans for 2014 with 25 games still remaining in the 2013 season.
"Next year? We've got a bunch of games left now," Dunn said. "Last thing I want to do is think about next year. I want to get through this one and kind of enjoy the offseason.
"No. As of right now, it's a no," said Dunn as to whether this could be his last year. "We went down this road before: The day that I quit having fun, making it a struggle to come to the ballpark or not enjoying the competition out there, is the day I will go home. Whether it be tomorrow, whether it be 10 years from now. I'm still enjoying the competition. It's just tough losing when you have such high expectations."
Earlier in this season, Dunn told MLB.com that he wanted to win with the White Sox. At this stage in his career, Dunn also doesn't want to be part of a full rebuilding process, where the '14 season could be close to as tough as the '13 campaign.
It seems to be the team struggles weighing on Dunn's mind.
"Obviously, winning solves everything," Dunn said. "It's one of those things, it's just because how the expectations were so high, in the clubhouse for sure, this has been one of the most disappointing years I can remember."
Scott Merkin is a reporter for MLB.com. Read his blog, Merk's Works, and follow him on Twitter @scottmerkin. This story was not subject to the approval of Major League Baseball or its clubs.