Moore effective in return as Rays end slide
Moore effective in return as Rays end slide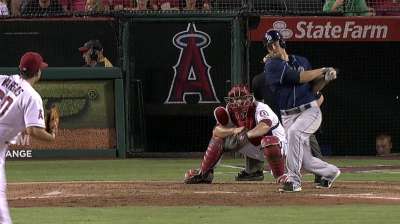 ANAHEIM -- Though the Rays' offense continued to sputter, it was effective enough to give Matt Moore the run support he needed to make a successful return to the rotation in a 7-1 win over the Angels on Tuesday night at Angel Stadium.
The win snapped the Rays' five-game losing streak, moving the team to 1-4 on the 10-game road trip to the West Coast. While the Rays still trail the first-place Red Sox by 5 1/2 games in the American League East, they held on to their position for the second AL Wild Card, maintaining their 2 1/2-game advantage over the Yankees while expanding their lead over the Orioles to three games.
Moore had not made a Major League start since going on the disabled list with a sore left elbow after his July 28 outing against the Yankees. During his absence, the Rays went 13-18, so his return was welcomed.
And Moore did not disappoint, allowing no earned runs in 5 1/3 innings before handing the ball over to Roberto Hernandez with a 6-1 lead and a runner on first.
"That was the plan obviously," Moore said. "They don't always go accordingly. I think all the hard work that the training staff and we all put in to get my arm to feel the way it needs to feel for me to get out there [paid off]. It feels good to get to this place where we're winning ballgames with it."
Moore was credited with the win, moving him to 15-3 on the season. Hernandez pitched the final 3 2/3 innings flawlessly to pick up the first Major League save of his career.
"[Moore] was a little erratic early," Angels manager Mike Scioscia said. "I thought we did a good job of being patient early in the game and had his pitch count up. We had some opportunities to score some runs, but when push came to shove, he was able to throw some good changeups. ... He has good stuff, it's just a matter of when he makes a mistake you want to hit it, and we didn't quite get it tonight."
Hernandez struck out seven of the 11 batters he faced.
"He just threw a little sinker and a little changeup and struck out seven out of 11, so obviously he did a good job," Scioscia said.
Tampa Bay entered Tuesday night's game having scored just seven runs in four games on the road trip, thus, saying that the Rays' offense sputtered on a night when they finally scored some runs might seem inaccurate. But the offense in fact sputtered through several potential big innings, minimizing the damage rather than maximizing on opportunities.
Jason Vargas started for the Angels, which looked like trouble for the Rays based on what the left-hander did against them at Tropicana Field on Thursday, when he held the Rays scoreless on two hits through seven innings in a 2-0 win.
Vargas got in trouble early when James Loney singled to start the second and Wil Myers followed with a double to left to put runners in scoring position. Loney then scored on Kelly Johnson's groundout, but Vargas ended the threat by striking out Jose Lobaton and Yunel Escobar, sending a "here we go again" to the visiting dugout.
Desmond Jennings led off the next inning with his 12th home run of the season. Ben Zobrist and Evan Longoria followed with walks and Delmon Young singled to load the bases with no outs.
But once again, the Rays' offense appeared to flood the engine.
The Rays had grounded into at least one double play in 12 of their previous 13 games, so nobody on the Rays' side could have been surprised when Loney grounded into a 5-2-3 double play for the first two outs of the third. Myers then struck out to end the threat.
Credit the Rays for continuing to grind and eventually the big hit came when Zobrist stroked his 33rd double of the season with two outs in the fourth to drive home two for a 4-1 lead.
"We left way too many people on," Rays manager Joe Maddon said. "With Vargas, I thought we did a nice job of trying to beat him down by not expanding our strike zone, which we're normally pretty good at. But again, it goes back to Zobrist's hit. Zobrist's hit permitted all of that to happen. Otherwise, Vargas probably would have settled down pretty well."
The Rays would score three more runs on the evening, even though they finished 3-for-20 with runners in scoring position.
"Yeah, I mean, again, there is such a thing as good and bad baseball luck," Maddon said. "The thing kind of evens out at some point. So I'll take that tonight in spite of our frustration with runners in scoring position. But the at-bats were good. The contact was better. And eventually it's going to shift back to us."
The bottom line Tuesday night was that the Rays scored enough runs to win.
"Seven runs are good for us right now," Jennings said. "We got them in when we needed to. And Matt did a great job. Roberto came in and did a good job. We'll take it."
Bill Chastain is a reporter for MLB.com. This story was not subject to the approval of Major League Baseball or its clubs.