Romero ready, waiting to contribute in '13
Romero ready, waiting to contribute in '13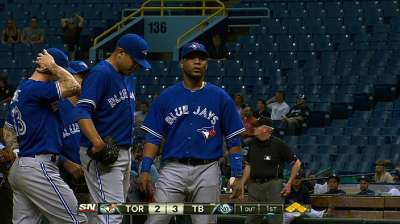 PHOENIX -- Hoping for redemption from his disappointing 2012 campaign, veteran left-hander Ricky Romero joined the Blue Jays in Arizona on Tuesday following nearly a full season in the Minors trying to return to old form.
"It's been a little bit of a long year, but I'm glad I'm here and surrounded by these guys," Romero said. "I'm just going to come out here and work. Just go out there and compete and do what I know how to do. I think that's the biggest thing, taking advantage of the opportunity."
Romero was an All-Star in 2011, finishing the season 15-11 with a 2.92 ERA. In 2012, however, the southpaw struggled in 32 starts, going 9-14 with a 5.77 ERA. He has appeared in two games for the Blue Jays this year, giving up a combined six runs in 4 1/3 innings, but every other outing Romero has made has been in the Minors. Although the 28-year-old was just 5-8 with a 5.78 ERA in 22 starts for Triple-A Buffalo, he feels confident that whatever caused the problems that plagued him in 2012 is behind him.
"It's tough to see the little victories, but sometimes the box score doesn't say it all," Romero said. "I've always been my toughest critic, but if you see a six- or seven-inning outing and you give up eight hits and five runs, sometimes there is some bad luck. That's just the way baseball is. My last few starts in Buffalo, I was satisfied. I was competing."
Despite being in the Minors only a year removed from a stellar season in 2011, Romero said he never got down on himself, instead focusing on how he could get back with the Blue Jays.
"As tough as the road has been, I never stopped believing," he said. "I've been a fighter my whole life, and I've overcome so many things. I knew I was going to keep fighting, and I came out with the right attitude every time I was pitching. I wanted to do whatever it took."
Now that Romero is back with Toronto, the club has not defined how he will be used in September, only saying that he will get work whenever the situation calls for it. That is just fine with him; his only goal is to show he can get batters out and take some confidence with him into next spring.
"After the tough year I had, you're looking to rebound from a personal standpoint," he said. "We'll see. My arm, late in the year, is probably the best it's felt in a long time."
Tyler Emerick is an associate reporter for MLB.com. This story was not subject to the approval of Major League Baseball or its clubs.