Jackson's woes at forefront in Cubs' loss
Jackson's woes at forefront in Cubs' loss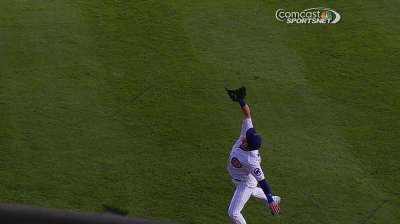 CHICAGO -- September doesn't look much different than August for Cubs starter Edwin Jackson.
Christian Yelich drove in two runs and Donovan Solano smacked a two-run double in the eighth to lead the Marlins to a 6-2 victory over Jackson and the Cubs Tuesday night in front of 30,024 at Wrigley Field.
Jackson took the loss, and now has not won since July 31, a span of six starts. He's given up 21 earned runs over 33 2/3 innings in that stretch. The right-hander dropped to 1-7 in his career against the Marlins.
"It's definitely been a disappointing season," said Jackson, who signed a four-year, $52 million contract in the offseason. "Every lesson is a lesson learned. You either accept it and be complacent or find ways to keep working hard. I have three more years here, hopefully, and when you have a season like this, it definintely makes you look forward to coming back and bouncing back for the next three years."
The problem Tuesday was that Jackson relied too much on his slider late, and it wasn't effective.
"That slider, he was throwing it 87, 88 miles an hour, and it was swing-and-miss [early], and then it just left him," Cubs manager Dale Sveum said. "The velocity went down, and they were all short."
Jackson guessed that he threw 40 percent sliders, which he said was entirely too many. Why did he do that?
"At the end of the day, it's on me," he said. "There's nobody to blame but myself. I have the last say so. I just could've done a better job, like I did early in the game pitching off the fastball. The slider is no good unless you pitch off the fastball with it."
With the loss, the Cubs also have dropped 12 of their last 17 games and 19 of their last 24 at home.
It was a rough third inning. Starlin Castro lined a ball off the right leg of Marlins starter Tom Koehler with one out and a runner at second. Koehler collapsed on the ground in front of the mound, but he stayed in the game. He then hit the next batter, Luis Valbuena, on the right leg with a pitch, and he fell to the ground. Valbuena stayed in as well.
Koehler helped himself in the fifth when he singled to lead off, and one out later moved up on Solano's single. Yelich then hit an RBI double, and Giancarlo Stanton followed with a RBI single for a 2-0 lead. Justin Ruggiano bounced the ball to Castro, but he misplayed the potential double-play ball for an error, allowing Yelich to score. Jackson needed 34 pitches to get through the inning.
Brian Bogusevic led off the Chicago fifth with his third home run to make it 3-1. Koehler walked the bases loaded with one out, and was lifted for Dan Jennings, who served up a sacrifice fly to Anthony Rizzo. But Jennings got Nate Schierholtz to ground out and end the inning.
Koehler didn't last long enough for the win.
"You give up a leadoff home run, things like that are going to happen," Koehler said. "But after that, you have to be able to shut them down. I don't know if it was a combination of trying to do a little too much and losing the zone, and with them being a little bit more patient, but it's just one of those innings that can't happen."
Miami added on in the eighth. The Marlins had two on and two outs against Blake Parker, when Solano hit his second double of the game over Schierholtz in right, driving in both runners. Solano scored on Yelich's single.
Castro singled to lead off the first, but the Cubs mustered only three more hits after that.
"As a starter, you really can't worry about runs," Jackson said. "If you're not scoring a lot, then the pitching and defense has to be there. If you're a starter and out there worrying about run support, you won't get too far in the game. It's one of those things you can't control."
On the bright side for the Cubs, lefty Zach Rosscup made his Major League debut in the sixth inning, and struck out the first batter he faced, Chris Coghlan.
"There were nerves for sure, but after the first couple pitches, I got comfortable," said Rosscup, who began the season at Double-A Tennessee, moved up to Triple-A Iowa, and was added to the 40-man roster on Tuesday.
When he came out of the game, Sveum asked the lefty if he was breathing.
"I said, 'Are you done shaking now?'" Sveum said. "He said, 'Why? Was it noticeable?' He did a nice job."
Rosscup's phone was overloaded with text messages from family and friends.
"My mom was probably dancing at the house," Rosscup said. "'Tears of joy,' she said."
Carrie Muskat is a reporter for MLB.com. She writes a blog, Muskat Ramblings, and you can follow her on Twitter @CarrieMuskat. This story was not subject to the approval of Major League Baseball or its clubs.