Fuld calls mound debut 'bittersweet' experience
Fuld calls mound debut 'bittersweet' experience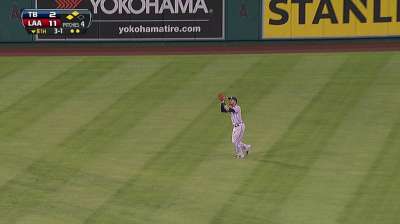 ANAHEIM -- The buzz inside the Rays' clubhouse Tuesday afternoon still belonged to outfielder Sam Fuld, who pitched to one batter in Monday night's 11-2 loss to the Angels and retired J.B. Shuck on a fly ball to center field.
"I think [bullpen members] were not really convinced that I was going to pitch, and neither was I," Fuld said. "It was still speculation at the time. So it was pretty funny and guys were surprised. ... It's weird. I never made that jog from the dugout to the bullpen. That was odd."
Fuld noted that Rays manager Joe Maddon had mentioned the possibility of him pitching in a game last week at Kansas City, but nothing came of that, which added to the idea that he would not get into the game. He noted that he did receive some good advice from bullpen coach Stan Boroski.
"Stan basically told me, 'If you want one piece of advice, just throw fastballs,'" Fuld said. "I was glad he said that because I probably would have tried to go out there and throw a bunch of curveballs. And I'd be in the training room right now."
Once he got the call to come into the game, Fuld described running to the mound from the bullpen as being an interesting experience.
"For the first time in my life, I was concerned about how I looked running," Fuld said. "How my tempo was, what my technique looked like. Completely unchartered water for me."
Shuck declined after the game to comment about the experience of batting against an outfielder. Fuld said that it was ironic getting Shuck out.
"Because the one guy I've been impressed with the most has been Shuck," Fuld said. "I think he's impressive. He seems to square everything up. So I think it's ironic I got him out."
Fuld described his outing as "bittersweet."
"It's fun to laugh about it. Maybe that's part of the whole deal, it can loosen everybody up a little bit," Fuld said. "Aside from the fact that we lost and we've been losing a lot lately, it's pretty cool to be able to say that [I've pitched in the Major Leagues]. I don't think I ever want it to happen again. I think once is enough. It'd be like riding a roller coaster for me, I have yet to do it. I'd probably do it once in my life and say that's enough."
Maddon smiled after hearing Fuld's "once is enough" comment.
"We'll give him like 12 months off and bring him back next year," Maddon said.
Bill Chastain is a reporter for MLB.com. This story was not subject to the approval of Major League Baseball or its clubs.