O's unable to complete ninth-inning rally vs. Tribe
O's unable to complete ninth-inning rally vs. Tribe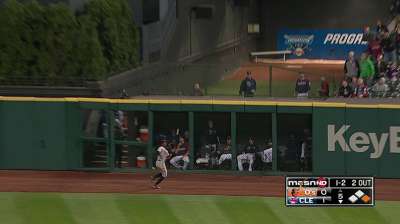 CLEVELAND -- Looking to use back-to-back wins as momentum in putting together a hot September stretch, the Orioles had their ace on the mound Tuesday night and an offense that had scored 14 runs over the past two games.
But Chris Tillman was uncharacteristically wild and an erratic lineup went cold the first eight innings, costing Baltimore (73-64) a chance to keep pace in the American League Wild Card race with a 4-3 loss to the Indians.
The fourth-place O's fell a half-game behind the New York Yankees -- who beat the White Sox -- and remained three back of Tampa Bay, which owns the second Wild Card spot. The series-evening defeat, in front of a cozy crowd of 9,962 at Progressive Field, evened the season series with Cleveland, 3-3, and put the Indians a half-game behind the O's in a crowded Wild Card picture.
"Every game is important, but it has been all season," said Orioles outfielder Nate McLouth, who delivered a three-run ninth-inning homer. "It's a little bit more magnified right now with less games to play and the standings tightening up, but it's going to be a fun last 3-3 1/2 weeks. We're all excited about it."
McLouth created some late-game enthusiasm in the visiting dugout, sending Chris Perez's full-count four-seamer into the right-field seats to bring his club within a run and snap the Orioles' 0-for-8 drought with runners in scoring position. The blast, which went an estimated 358 feet, marked McLouth's second in as many games and also scored Nick Markakis and J.J. Hardy, who each singled to start the inning.
But it wasn't enough, with Perez hunkering down to record a pair of strikeouts and a game-ending groundout from Chris Davis to finish off an impressive effort from Tribe righty Ubaldo Jimenez.
"That doesn't surprise me," manager Buck Showalter said of his team fighting to the last out. "I just wish we could have done some things earlier to give Chris a little breathing room. It's kind of tough when you have to pitch and everything has to be so fine."
Tillman, who picked up his 15th win with a dominant seven innings vs. the Red Sox at Fenway Park on Thursday, issued five walks -- two intentional -- and allowed four runs over 5 1/3 innings. The right-hander, who was a late addition to the AL All-Star team, allowed a pair of runs on sacrifice flies before Yan Gomes' two-run double in the sixth chased him from the game.
"I need to be better than that," said Tillman, who said he struggled with location from the get-go. "It's coming down to the wire here and I think I expect better from myself. It was close. I was a couple pitches from getting through there."
Tillman, who struck out Gomes with the bases loaded in the fourth, wasn't as fortunate in his next at-bat. After Asdrubal Cabrera's sacrifice fly produced the Indians' second run, Tillman intentionally walked Jason Kubel for the second time and Gomes made him pay, sending a ball off the center-field wall to push the lead to 4-0.
"Those come back to bite you," Tillman said of issuing a pair of leadoff walks, both of which scored. "They battled in deep counts the whole game. I've got to be better than that and win those deep ones. They took advantage of it, for sure."
The abbreviated 102-pitch outing marked the first time since Aug. 2 that Tillman had failed to go six innings, and just the second time in his last 10 games. Lefty reliever T.J. McFarland, the Orioles' Rule 5 Draft pick last winter, retired the next batters to end the sixth and tossed two scoreless against his former organization.
Jimenez outlasted Tillman in completing six frames. He held the Orioles to four hits, all singles, to go with two walks.
The O's best chance to score came in Jimenez's final frame, as they put a pair of one-out runners on in Manny Machado's long single to left field and Davis' walk. After Adam Jones narrowly beat out a potential double-play ball, Matt Wieters worked another free pass to load the bases. But new Oriole Michael Morse tapped a ball back to Jimenez to end the threat.
"He's been able to stay aggressive," Gomes said of Jimenez, who also stranded runners on the corners with one out in the second. "Even if it's with his slider or his offspeed stuff. He's not trying to pick at guys. He's going straight at them. Today, we were able to work in and out and his pitches were working. He only had four strikeouts, but it seemed like he got ahead of a lot of guys and we were able to put them away."
The O's, who left nine men on base, put another pair of runners on off reliever Cody Allen in the seventh with Hardy's one-out walk and McLouth's single. But Brian Roberts and Machado both flied out to keep Baltimore scoreless.
"We're going to keep trying to score runs until that last out is made," McLouth said. "Unfortunately, we set ourselves in a position early in the game where we couldn't do anything and the hole was too much to climb out of."
Brittany Ghiroli is a reporter for MLB.com. Read her blog, Britt's Bird Watch, and follow her on Twitter @britt_ghiroli. This story was not subject to the approval of Major League Baseball or its clubs.