Bucs check item off to-do list with win No. 81
Bucs check item off to-do list with win No. 81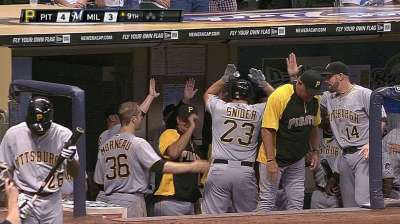 MILWAUKEE -- Travis Snider went from the forgotten man to the man in the middle of history Tuesday night at Miller Park.
Snider, virtually invisible for more than a month and buried on the Pirates' depth chart due to a chronically sore toe, delivered a ninth-inning, pinch-hit home run Tuesday night to lift the Pirates to a 4-3 win against the Brewers and guarantee their first non-losing season in 21 years.
Having widened their National League Central lead to two games over the Cardinals with 24 games remaining, securing a .500 record was simply one step on what the Pirates hope will be a Yellow Brick Road deep into October.
"It's a step in the right direction," Pirates manager Clint Hurdle said. "It was on our to-do list. The one family I'm happy for here is the Clemente family. I had a little talk with them earlier in the season and they told me, 'We can't have 21 losing seasons. We've got to find a way to not have Roberto's number tied to that.' I told them we would do everything we could to take care of that, and it's been taken care of. We'll move on from here, and our plans are to continue to play and compete and go further."
The first step was getting win No. 81, and Snider -- pinch-hitting for Vin Mazzaro, who surrendered the tying run an inning earlier -- delivered it with his fourth home run of the year and his second while pinch-hitting. The left- handed-hitting Snider turned on a 2-2 slider from Brewers closer Jim Henderson and sent it out to left-center field.
"Just fired up," Snider said. "To have a chance to put your team on top late in the game, with the bullpen and the squad we feature this year, it's exciting. Luckily I had seen a slider earlier in the at-bat, and when I saw it elevated, it was just a natural reaction. One of those things you don't really remember, it just happens."
Henderson had allowed only two home runs in his first 48 appearances this season, but has allowed a homer in three of his last four.
In all, Brewers relievers have surrendered 13 earned runs in the first five games of an 0-5 homestand that concludes with the series finale Wednesday night.
"The game will mess with you," Henderson said. "I threw a few good sliders that outing, and the one bad one I threw, it gets knocked out of the park. It stinks when the team comes back and battles hard to tie it up in the eighth, and I've let them down the last two times I've been out. Those are the things I take hard."
The Brewers had rallied to tie it at 3 in the eighth, Vin Mazzaro's second inning of relief work. Pinch-hitter Caleb Gindl worked a leadoff walk, scooted to second as Norichika Aoki grounded out and scored on Jean Segura's single up the middle.
Before that, the heart of the Pirates' order had teamed up on its first three runs. The trio collaborated to tie the game at 2 in the top of the eighth. Andrew McCutchen worked reliever Brandon Kintzler for a nine-pitch walk, Justin Morneau singled to send him to third, and Marlon Byrd doubled to score him. That threesome had all seven of the Bucs' hits until Snider unloaded. "That's what we're there for," McCutchen said. "We're there to deliver, we're there to come through. It's great that we were able to show up and be able to do that tonight. We just set ourselves up to win the ballgame."
McCutchen needed no assist with the first strike: He launched career homer No. 100, his 18th of this season, in the first off right-hander Yovani Gallardo. McCutchen, Morneau and Byrd finished 7-for-10 with two extra-base hits, three RBIs and three runs scored out of the Nos. 3-5 spots.
"Confidence. Everybody has confidence," Byrd said. "There's just a vibe going on in the clubhouse that everybody knows they can get it done. It's nice being a part of this. Like I said, I'm just a piece of the puzzle. They've welcomed me with open arms, and I'm just going to keep doing everything I've been doing all year.
"This club's good enough to win it all."
The Brewers tagged Pirates starter Gerrit Cole for two runs in the first inning, with Jonathan Lucroy's two-run single converting Aoki's leadoff walk and Segura's ensuing double.
But the 22-year-old right-hander settled down and allowed only three hits from that point on. He finished with a line of six innings, five hits, two earned runs, one walk and five strikeouts. He threw 92 pitches, 59 for strikes.
"Clint said it to me today a couple times, he said, 'you really put your foot down today, and that was fun to watch,'" Cole said. "After the first inning, I just started realizing what I had and just going with whatever [catcher Russell Martin] put down. Whether it was in or out or offspeed, we kept them off- balance just enough to be able to just give us a chance to win."
It was Cole's 10th quality start out of 15 chances.
"He learns every time out there. I still think he's going to find better rhythm to start the game -- that seems to be a challenge for him," Hurdle said. "Once I think he gets through that rush, or whatever, he gets down, he makes pitches. You saw how efficient he was at the end, that's been similar to a lot of the outings he has."
Other than going one inning longer, Gallardo nearly mirrored Cole's line: Five hits, two runs, with three walks and six strikeouts.
McCutchen and his new posse squared matters in the third. With two outs, McCutchen singled -- thus making quick work of his 53rd multihit game of the season. Morneau, batting cleanup, singled to advance him and No. 5 hitter Byrd singled to score him.
Hurdle had the luxury of sitting his usual cleanup hitter - Pedro Alvarez, lifetime 1-for-20 against Gallardo - in favor of Morneau, who showed up 4-for-8 against the Brewers righty. Josh Harrison handled third in Alvarez's absence.
Morneau went 3-for-3 in leading the Pirates out of the darkness.
Kevin Massoth is an associate reporter for MLB.com. This story was not subject to the approval of Major League Baseball or its clubs.