Late homers shrink Braves' magic number to 10
Late homers shrink Braves' magic number to 10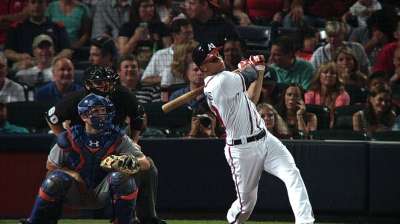 ATLANTA -- As the Braves were staring at the possibility of being shut out for the second time in three days, Evan Gattis made his return to Atlanta more memorable and Andrelton Simmons proved he can provide more than just defensive excellence.
Gattis and Simmons solved a previously dominant Carlos Torres with a pair of seventh-inning home runs that supported Kris Medlen's stellar effort and gave the Braves a 3-1 win over the Mets on Tuesday night at Turner Field.
"I thought for a second [Medlen] was going to get one of those tough-luck losses," Braves manager Fredi Gonzalez said. "Torres was that good. Then there in the seventh inning, he makes a couple of mistakes and we run him out of the ballpark."
Feeding off the comfort he regained while playing the previous three days for Triple-A Gwinnett, Gattis accounted for two of the four singles Torres allowed through the first six innings. The powerful slugger then highlighted his three-hit return to the Majors by lining his game-tying solo home run just over the top of the left-center-field wall with one out in the seventh.
After Dan Uggla followed with an eight-pitch walk, Simmons turned on a 1-0 fastball and sent it over the left-center-field wall, about 10 rows deeper than the much stronger Gattis had hit his. Simmons' decisive two-run shot provided the Braves a lead Craig Kimbrel ultimately preserved by converting his 34th consecutive save opportunity.
"I got all of it," Simmons said. "I've never hit a ball that I was so sure it was out. I was pretty sure, but I've never hit a ball to left-center and known it was gone. It's nice to hit it that far."
These two home runs proved to be enough for the Braves, who have won seven of the first eight games of this homestand and whittled their magic number to clinch the National League East down to 10. They own a 15-game lead over the second-place Nationals with 24 games remaining.
"This was the first big league game I've ever played in September," Gattis said. "We want to make a push and get everybody together and see what happens."
As the Braves approach the postseason, they are starting to see Medlen look more like he did when he posted a 0.97 ERA in the 12 starts he made during the final two months of the 2012 season.
During this latest effort, Medlen allowed seven hits over seven innings. The lone run he surrendered came after Gattis hesitantly approached the left-field wall while chasing Eric Young's long fly ball in the sixth inning.
Medlen scattered three hits through the first five innings and was in command until Gattis misplayed Young's fly ball, which was ruled a triple. Daniel Murphy followed by taking advantage of a misplaced 0-2 fastball that he pulled to right field for an RBI double.
"It was a poorly executed 0-2 pitch," Medlen said. "I thought we had him leaning over. But I think he's a good hitter. He's one of the best hitters. He hit the double into the corner and made it 1-0. I just tried to keep it there. [Simmons] and [Gattis] did something huge for myself and the team."
Gattis' first home run since July 24 atoned for his defensive miscue and enabled him to further distance himself from the frustration he had felt while hitting .185 (22-for-119) with a .543 OPS in the 38 games he had played dating back to May 31. The decision to send him to Gwinnett for the final three games of the International League season was simply an attempt to get him the at-bats he was not getting at the big league level.
"I felt fixed before leaving," Gattis said. "It was good to go [to Gwinnett] and really kind of put it into action. From there, yeah, definitely good to see that. It was just good to have a good night here, first one especially."
Along with producing some of the best defensive metrics ever recorded by a shortstop this season, Simmons has proven that he can also be a threat on the offensive end. The 13 home runs he has hit are four more than he had totaled in his professional career entering this season.
"It's nice to give [Medlen] that win because he worked really hard," Simmons said. "He did everything right, and you want to give him the win when he's throwing that well."
Medlen's victory evened his record through 24 decisions. While wins and losses are not a clear indicator of a pitcher's contributions, this is impressive given the fact that he started the season 1-6.
As his fastball command has proven more consistent and he has gained a better feel for his curveball, Medlen has escaped the troubles that plagued him when he posted a 5.13 ERA during a 10-start stretch that extended through Aug. 7. He has allowed one or no runs in the four starts that have followed.
"The last couple years, I've finished pretty strong," Medlen said. "I'm four or five starts away from doing the same thing. I just take it a start at a time. It's the ups and downs of a full year. You just work hard and battle through the hard times. Then the good times are even better."
Mark Bowman is a reporter for MLB.com. This story was not subject to the approval of Major League Baseball or its clubs.