Torres' strong start turns sour quickly against Braves
Torres' strong start turns sour quickly against Braves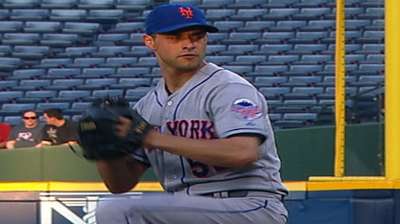 ATLANTA -- Heading into Tuesday's game against the Braves, the Mets would have almost certainly signed up for what Carlos Torres gave them: seven innings and three runs, safely above the threshold of a quality start on a night when his team desperately needed length.
But how Torres arrived at that juncture made his evening seem somehow worse. After blanking the best team in baseball for six consecutive innings, Torres allowed all three of his runs during a three-batter span in the seventh, sending the Mets to a 3-1 loss to the Braves.
"That's baseball," Torres said. "Unfortunately, baseball usually comes down to one or two pitches, one or two at-bats. That's the way it goes."
With one out in the seventh, Torres was cruising, having retired seven in a row. But his offense left him zero margin for error, which proved critical when Evan Gattis tied the game with a solo homer to left-center field.
Torres walked the next batter, Dan Uggla, before serving up a go-ahead two-run shot to Andrelton Simmons. The Mets never recovered.
"He was using his fastball a lot today," Simmons said. "He came at us fastball, cutter, fastball, fastball. Fortunately, [Uggla] got him tired the second time I saw him, and he was leaving it a little over the middle. I was fortunate to get that one."
"That's what makes them really tough," Mets manager Terry Collins said of the Braves, who improved to 32 games above .500 for the first time in a decade. "They can all hit a homer. That's why they've been winning. They can score quick and fast."
For Atlanta, however, success was not entirely due to hitting. Retiring 11 straight during one early juncture, Braves starter Kris Medlen was simply better than Torres on this night, striking out nine batters over seven innings. Medlen allowed his only run on Daniel Murphy's double in the sixth, after Eric Young Jr. tripled with one out. The Mets then went scoreless in the eighth and ninth innings to seal their third straight loss.
Against Medlen, New York's second-best scoring chance came in the seventh, when Matt den Dekker and Omar Quintanilla singled in succession to put runners on the corners with two outs. That brought up Torres, who had thrown only 66 pitches over six shutout innings up to that point. Medlen struck him out on three pitches, preserving the one-run game.
An inning later, the Mets again put runners on the corners with two outs, this time against reliever Luis Ayala. But after running the count full against the right-hander, Travis d'Arnaud popped up to end the threat.
"The more he goes up there, the better he's going to be," Collins said of d'Arnaud. "You're still looking at a young player who hasn't had a full season because of his injuries in the last couple years. I thought he battled him tough, especially as tough as Ayala is. He's around the corners. He knows what he's doing, and you've got to protect -- especially in that situation. I thought Travis did a nice job."
So did Torres, who even had the results to show for it. Forced back into the rotation because of the season-ending injuries to Matt Harvey, Jeremy Hefner and Jenrry Mejia, Torres has given the Mets all they could have hoped for over his first two starts, allowing a combined four runs in 13 2/3 innings. At 30 years old, Torres does not represent a significant piece of the Mets' future. But he is a critical part of their present, if for no other reason than that he is a warm body.
For the Mets, the fact that Torres is also performing well is a welcome bonus.
"He's been pitching good," Collins said. "Carlos, for the most part, has pitched very, very well for us. Even starting, he's really pitched good. He gave us a chance. We just couldn't put up any runs."
As a result, seven innings and three runs were not good enough. Asked if he could take anything out of his second consecutive quality start, an irritated Torres summed up the night by saying simply: "No."
Anthony DiComo is a reporter for MLB.com. Follow him on Twitter @AnthonyDicomo. This story was not subject to the approval of Major League Baseball or its clubs.