Tests pointing toward concussion for Getz
Tests pointing toward concussion for Getz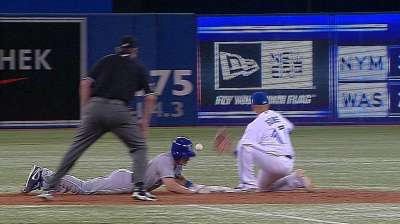 KANSAS CITY -- Royals second baseman Chris Getz left Tuesday night's 4-3 win over the Mariners after only two innings as a precautionary measure due to an upset stomach and mild dizziness. Manager Ned Yost said early tests are leaning toward a concussion.
"The tests are kind of pointing that direction, but it's too early to tell," Yost said. "We don't know. It's kind of a weird deal."
Getz batted second in the first inning and grounded out. In the second inning, he made a stop of a ground single by the Mariners' Mike Zunino and his throw skipped past first baseman Billy Butler for an error, allowing Justin Smoak to reach third.
"He felt fine before the game," Yost said. "That play in the second inning where he had to range way over to his left, he caught the ball and when he turned to throw, he threw off-balance and then he fell and kind of snapped his head and got real dizzy from that point on. We don't really know what it was."
Getz finished the inning, but was replaced by Emilio Bonifacio in the top of the third.
Getz was hit in the head in September 2010, sliding into a base, and missed the rest of the season with a concussion. On Friday in Toronto, Getz was hit in the helmet running the bases, but Yost said he felt no concussion symptoms after that game.
Dick Kaegel is a reporter for MLB.com. Kathleen Gier is an associate reporter for MLB.com. This story was not subject to the approval of Major League Baseball or its clubs.