Flynn will be thinking of dad during Majors debut
Flynn will be thinking of dad during Majors debut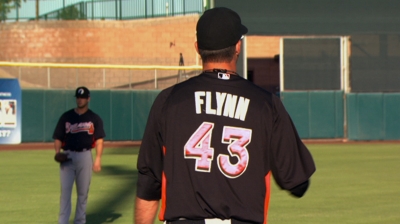 CHICAGO -- Brian Flynn will make his Major League debut on Wednesday afternoon against the Cubs, and when he takes the mound, he will be thinking of his late father, David.
"My dad passed away when I was eight," Flynn said. "… It's kind of a dream me and my dad had. [We were] always out there in the backyard. He lived and breathed baseball."
The 23-year-old left-hander was called up on Tuesday from Triple-A New Orleans, after posting a 2.63 ERA (47 ER in 161 IP) in 27 starts between New Orleans and Double-A Jacksonville.
Flynn said that after getting an invitation to Spring Training with the Marlins, he wondered if he would get his first callup in 2013.
"I had a pretty good year and everything, and you hope when you get a big league invite to camp [that your debut] comes around this year. … I was really hoping to make it happen this year and get my feet wet at the end of the season."
Flynn will get that opportunity in a ballpark that he has always admired.
"To find out it was [going to be at Wrigley Field] was even better," he said. "It's a great ballpark, a historic ballpark, and I'm a real big fan of baseball, so it's one of those things that I couldn't ask for more."
Flynn credits his mother, Michele, with helping him find the right coaching growing up after his father passed away following a car accident.
"It was pretty much Mom trying to find me good coaches," Flynn said. "Mom [was] always trying to find me the right pitching lessons. … just always supported [my dream] and kept it going."
Flynn said Wednesday will be a day he won't forget, but not only because he'll be throwing his first pitch in the Majors.
"[I'll] absolutely [be thinking about my dad]," he said. "It'll be a good day. I want to make the most of it, enjoy every aspect of it, and soak it all in."
Manny Randhawa is an associate reporter for MLB.com. This story was not subject to the approval of Major League Baseball or its clubs.