Brantly returns to Marlins with simplified approach
Brantly returns to Marlins with simplified approach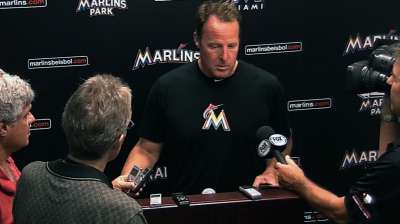 CHICAGO -- Catcher Rob Brantly was called up from Triple-A New Orleans on Tuesday and said he's ready to show what he can do in the last month of the season.
The Marlins' Opening Day catcher, Brantly hit .290 (29-for-100) in 31 games for Miami in 2012, but struggled in 2013, hitting .225 (46-for-204) in 59 games before being sent to Triple-A.
With New Orleans, Brantly hit .186 (13-for-70) in 20 games.
"The biggest problem I had at the beginning of the season was I was trying to do too much," Brantly said. "I started overthinking every aspect of the game, [and that] affected my hitting and affected my defense."
Brantly said that he used his time in Triple-A to remedy that problem.
"The biggest thing that I worked on when I got sent down was to simplify my approach," he said. "And it doesn't change when you get back up here. It's got to be the same here as it was there."
Marlins manager Mike Redmond said he's glad that Brantly figured out what was causing him to struggle earlier this season, and looks forward to seeing what he can do in the next few weeks.
"I hope he just goes out and plays," Redmond said. "Last year, I wasn't here, but from what I've heard, he came up and swung the bat well. This year, he had a tough time getting going on both sides of the ball, defense and on offense.
"I like the fact that he realized what was going on -- the adjustments that you need to make -- and that's what we're looking for. We send guys down for them to make adjustments, so that when they come back to the big leagues … they're able to sort of figure it out."
Manny Randhawa is an associate reporter for MLB.com. This story was not subject to the approval of Major League Baseball or its clubs.