Norris set to return to A's on Thursday
Norris set to return to A's on Thursday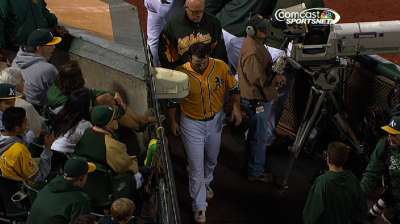 OAKLAND -- A's catcher Derek Norris capped his three-game rehab stint in Triple-A Sacramento by catching nine innings and batting 2-for-5 with a home run on Monday in the River Cats' final game of the season.
He hit .429 in 14 at-bats over the three games, totaling six hits, two home runs and four RBIs. Now, the A's right-handed-hitting backstop, who was placed on the 15-day disabled list two weeks ago after fracturing his left big toe, is ready to return that production to the big league club when he's eligible to return on Thursday.
"No complications with anything. Come Thursday we'll see what happens," Norris said. "I'm going to feel it, it's a broken bone. But it's not hurting me from doing anything that I would do with a healthy toe. I'm not limping. I'm not favoring it any. It's just going to be a tolerable annoyance for a little while."
Norris said there are no plans to wear any protective equipment to help alleviate any pain or serve as a precautionary measure. No padding, no new shoe, no nothing.
"Just the good-old feet God gave me," he said.
Prior to joining the River Cats, Norris said the activity that caused him the most pain was running at full speed. He was tested on Monday after hitting a ground ball down the third-base line that required the third baseman to dive and field the ball before throwing to first. Norris beat the throw and said everything felt fine.
And if Norris, who is batting .345 with nine walks since July 1, takes a foul ball off his left toe while calling signs?
"Say ow and throw the ball back," he said.
Jeff Kirshman is an associate reporter for MLB.com. This story was not subject to the approval of Major League Baseball or its clubs.