Kemp heads to Dodgers' complex in Arizona
Kemp heads to Dodgers' complex in Arizona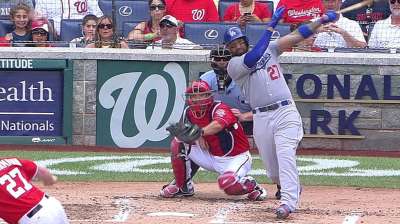 DENVER -- Matt Kemp's hitting rehab shifted from Class A Rancho Cucamonga to the Dodgers' Spring Training complex in Arizona on Tuesday, but it doesn't sound like the Dodgers expect an immediate return to the club or to his 2011 form.
Manager Don Mattingly said Kemp has missed the equivalent of an offseason with his numerous injuries and needs more live action than continued games in the California League playoffs with Rancho Cucamonga could provide.
So Kemp was sent to Camelback Ranch-Glendale, where he will face young pitchers like Matt Magill and Onelki Garcia as he works to get his mechanics and confidence back.
Going 0-for-18 with seven strikeouts in five rehab games is proof Kemp needs work on both. Kemp really hasn't been healthy since 2011 -- developing bad habits, and the doubts they lead to -- while battling three hamstring strains, a torn left shoulder labrum, an arthritic AC joint in the same shoulder and most recently a badly sprained left ankle.
"He can get 10 to 12 at-bats a day, and you get four at-bats in the Minor League setting," said Mattingly. "In a four-day period, he could get 40 at-bats. In 2 1/2 months, he's had 37 at-bats. That's like a full winter off. It's like the beginning of Spring Training. That's kind of where he is."
Mattingly said Kemp's health is now fine and he's working on getting back his timing at the plate. Mattingly added that he didn't know how long Kemp would remain in Arizona, but he expected him to miss the series in Cincinnati from Friday through Sunday.
Whenever Kemp returns, Mattingly said he anticipated using him in center field and not right field, the only other position at which he has played a significant amount of time as a Major Leaguer.
"Yasiel [Puig] is a force with his arm and I don't really want to move him," said Mattingly. "So, center field is the only place I see Matt right now."
Ken Gurnick is a reporter for MLB.com. This story was not subject to the approval of Major League Baseball or its clubs.