Cozart riding recent hot streak at plate
Cozart riding recent hot streak at plate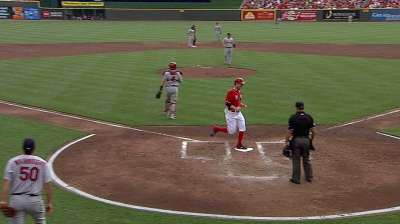 CINCINNATI -- Reds shortstop Zack Cozart always feels confident in the field. Recently, much to the delight of manager Dusty Baker, he's also started to feel confident at the plate.
Since his batting average sat at .236 on Aug. 13, Cozart had gone 22-for-62 (.355) with four extra-base hits, including a home run, and 14 RBIs in his last 18 games entering Tuesday. His average climbed to a season-high .251, as he's provided a spark at the bottom of the lineup after spending much of the season batting second.
"The last 10 games or so, my hits are all going up the middle or the other way, which I think is me adjusting to how they're pitching me," said Cozart, who singled in his first at-bat Tuesday. "I'm sure they'll adjust soon enough the other way. But I feel good at the plate."
While he was struggling, Cozart said he remained focused on his defense, where he has excelled. Having a defense-first mentality since college, he said he never carried his struggles at the plate with him to shortstop.
"Defense has kind of kept me sane all year," Cozart said. "That's my No. 1 thing. Joe Morgan always comes up to me and says, 'Hey, defense is No. 1. That's why you're out there.'"
Now, Cozart hopes he can be more of a contributor offensively, and his recent play has proven that to be a possibility, as he extended his hitting streak to eight Tuesday. Although he said he didn't listen to the fans who voiced their frustrations with him batting second earlier in the season, he said he hopes to have his own frustrations behind him.
"Obviously you want to play well and help the team win," Cozart said. "There were certain times early in the year where I didn't feel like I was doing my part. At the end of the day, you just want to go home knowing that at some point, somehow in the game -- whether it's offense or defense -- you helped the team win."
Jeremy Warnemuende is an associate reporter for MLB.com. This story was not subject to the approval of Major League Baseball or its clubs.