Cueto, Marshall throw successful 'pen sessions
Cueto, Marshall throw successful 'pen sessions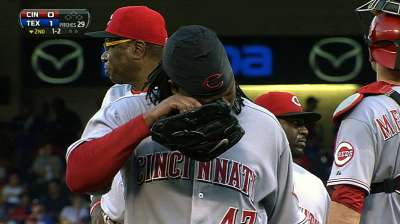 CINCINNATI -- The Reds bullpen was a busy place before Tuesday's game against the Cardinals. Along with Tony Cingrani, who is set to return to the mound Thursday, left-handed reliever Sean Marshall and right-handed starter Johnny Cueto also threw bullpen sessions Tuesday afternoon, and according to head trainer Paul Lessard, both were successful.
For Cueto, it was the first time he threw off a mound since leaving his June 28 start against the Rangers. He exited with a strained right lat muscle and hit the disabled list for the third time this season. Meanwhile, Marshall, who has been on the disabled list since May 24 with tendinitis in his throwing shoulder, threw his second bullpen session in the last week, and Lessard said his 27-pitch session was much improved from the one he tossed Sunday.
Although manager Dusty Baker couldn't offer a timeline for either pitcher's return, Lessard said the club will know more within the next week.
"Our plan is basically Tuesday, Thursday, Saturday bullpens -- both of them," Lessard said. "Hopefully they recover in between each one and progress for each one. If they do, great. Sunday we make some decisions."
Cueto threw 35 pitches Tuesday, mixing in some breaking balls with a regular dose of fastballs while also showing off a slightly different motion. Previously, Cueto completely turned his back to home plate before his delivery, but according to Lessard, "it's a modified twist now."
"He kind of closes his front side vs. the Luis Tiant thing," Lessard said.
Lessard did not think Cueto's twist caused his injury, but the lag in his arm when he opened up likely played a role. With a more closed version, Lessard said Cueto is mechanically more efficient.
Baker hadn't had a chance to talk to Cueto about the session, but he said he can tell how the injured righty feels based on his face and his emotions.
"I know he's excited," Baker said. "I know he's kind of tempered it some so he doesn't reinjure himself. It sure would be nice to get Johnny Cueto back. I don't care what capacity it would be. Just have to see how his body and everything responds."
Jeremy Warnemuende is an associate reporter for MLB.com. This story was not subject to the approval of Major League Baseball or its clubs.