Perez puts Rangers back in driver's seat
Perez puts Rangers back in driver's seat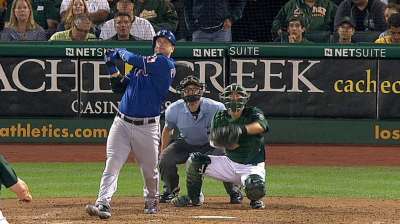 OAKLAND -- On a cool Bay Area evening in the heat of a tightly contested division race, rookie left-hander Martin Perez pitched the Rangers back into first place.
On a pitching staff that has allowed five runs or fewer in 31 straight games -- the longest such streak in the American League since 1972 -- Perez continues to show tremendous poise, especially in a game the Rangers really needed to win.
Perez allowed one run in seven innings and the Rangers regained sole possession of first place in the American League West with a 5-1 victory over the Athletics on Tuesday night at the O.co Coliseum. Perez beat Athletics ace Bartolo Colon, and the Rangers have a one-game lead over the Athletics with 24 left to play.
"He's a pitcher," manager Ron Washington said. "He's certainly showing he can pitch. He kept it down in the zone, moved the ball around. ... The thing I liked is I looked up and he's in the seventh inning with 70-something pitches. He's growing up in front of our eyes. He realizes he can pitch up here, and he's going out and pitching."
The Rangers are now 22-9 in this 31 game stretch of consistent pitching with an overall ERA of 2.99. But nobody on the staff has been better lately than Perez, who is 6-0 with a 2.54 ERA in his last six starts and 9-3 with a 3.41 ERA on the season. He is the first Rangers pitcher to win six straight starts since Kenny Rogers won eight straight in 2005.
"I'm just throwing strikes," Perez said. "I don't have any pressure and I don't have much experience, but I have a lot of veterans here helping me and that's good. I'm just throwing strikes and attacking the zone."
The Rangers, trailing 1-0 in the first inning, had to overcome some early offensive frustrations and they were still just 2-for-14 with runners in scoring position. But a big defensive play by Jurickson Profar shifted the momentum in the third inning and so did a game-tying home run by Mitch Moreland in the fourth. The Rangers then took advantage of Colon's inability to field his position to manufacture three runs in the fifth and take the lead for good.
Perez did the rest.
"He's pitching with a lot more confidence," Oakland manager Bob Melvin said. "He's got quite a run going as far as how their team's playing behind him. I would say he's probably one of their better starters at this point. He was a pretty heralded guy as far as prospects go. More of a spot starter in relief last year and this year he's settled into a starting role and doing pretty well right now."
The Athletics took a 1-0 lead in the first as Coco Crisp doubled and came home on fly balls by Josh Donaldson and Jed Lowrie. They had another opportunity in the third after Donaldson doubled with one out. After Lowrie flied to right, Yoenis Cespedes hit a grounder to the left-side hole.
Shortstop Profar made a diving stop and had no play at first. But Donaldson rounded too far off third and just kept running for home. Profar's throw was weak but in time, as catcher A.J. Pierzynski held on to the ball while Donaldson crashed into him.
"I saw him catch it, but I once I hit third I started breaking it down a little bit," Donaldson said. "And then for some reason I thought I heard go. I know it wasn't [third-base coach Mike] Gallego because once I took two steps he was sayingm 'Stay here. Stay here,' and it just kind of ended up being a really bad play for us and for myself."
"It was a great play by Profar just to get to the ball," Pierzynski said. "I wish he would have gotten it to me sooner. I know their third-base coach was trying to stop him. It looked like that play gave us some energy."
The play did seem to wake up the Rangers. So did Moreland's fifth home run at the Coliseum this season, the most a visiting player has hit at the ballpark since 1968.
After Perez kept the momentum by retiring the Athletics in order in the bottom of the inning on just nine pitches, the Rangers took charge in the fifth. David Murphy flied out before Craig Gentry hit a one-hop grounder back to the mound that clanked off Colon's glove for an error. Gentry was safe at first and then came around to score the go-ahead run as Profar doubled off the right-field wall.
"I pitched the ball well," Colon said. "The one play that made the difference was the ball they hit to me that I dropped."
Ian Kinsler followed with a hard grounder back to the mound that deflected off Colon's bare hand. This one went for an infield single, putting runners at the corners until Kinsler stole second with Adrian Beltre at the plate. Beltre brought home Profar with a ground out and Pierzynski's broken bat single to center made it 4-1. Alex Rios added an eighth-inning home run for good measure.
"We didn't need any dramatic hits," Washington said. "Just put the ball in play and good things will happen."
Especially when their rookie left-hander is dealing again.
T.R. Sullivan is a reporter for MLB.com. Read his blog, Postcards from Elysian Fields, and follow him on Twitter @Sullivan_Ranger. This story was not subject to the approval of Major League Baseball or its clubs.