Pierzynski adds to 100-game streak
Pierzynski adds to 100-game streak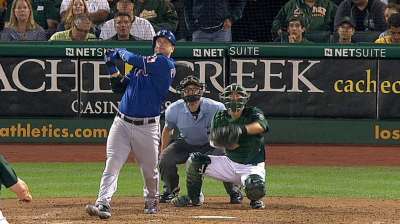 OAKLAND -- Catcher A.J. Pierzynski was in the Rangers' lineup on Tuesday night, and it was his 100th game behind the plate this season. This is the 13th straight season Pierzynski has caught 100 games, tying the record held by Johnny Bench, Bill Dickey and Brad Ausmus. Bench and Dickey are in the Hall of Fame.
"Anytime you get thrown in there with a guy like Johnny Bench it's pretty cool," Pierzynski said. "This means I'm old and have been around for a while. I've been fortunate and lucky and I thank my parents they gave me good genes to keep me healthy. I remember when I first came up and I was 23-24, I was thinking I've got to do this for 10 more years.
"Everybody wants to get 10 years in. To still be going out there healthy every day is special. It's not something you can count on. You never know what will happen, especially catching."
Pierzynski would like to make it 14 straight seasons. He turns 37 in December and can be a free agent after the season.
"I don't know ... where am I going to play," Pierzynski said. "We still have 25 games left and hopefully a long postseason. I don't know what will happen but I do want to play and play every day. Hopefully I can find a place and hopefully it's Texas."
T.R. Sullivan is a reporter for MLB.com. Read his blog, Postcards from Elysian Fields, and follow him on Twitter @Sullivan_Ranger. This story was not subject to the approval of Major League Baseball or its clubs.