With Minors season over, Baker wondering what's next
With Minors season over, Baker wondering what's next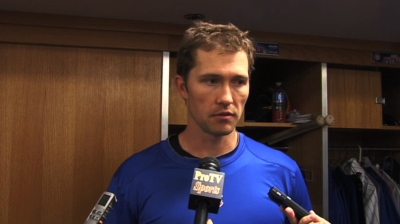 CHICAGO -- Scott Baker made his final Minor League rehab start on Monday, and he felt positive about finally getting into the sixth inning of a game. But the right-hander, who is coming back from Tommy John surgery, still isn't sure what's next, and neither are the Cubs.
Cubs manager Dale Sveum said the team was still evaluating Baker's situation and trying to determine the next step. Starting for the Cubs in the final month is apparently not in the plans.
"At one time, we figured he'd be back maybe at the All-Star break, and he obviously had a setback," Sveum said. "It's something you want to evaluate for next year, because we did spend a lot of time and effort getting him back."
Baker signed a $5.5 million contract this season, and had hoped to return for the second half of the season. In his outing on Monday for Class A Kane County, he threw 80 pitches over 5 2/3 innings. However, the velocity is not where he'd like.
"For me, it's about getting outs," Baker said. "If you can get outs, who cares? If you can't get outs, maybe that's part of the reason why you can't get outs. My velocity is not where I want it yet. Thankfully, I know how to pitch a little bit and get guys out.
"I really, truly feel that the more I throw, the better that will get," he said. "Let's be realistic, it's been a long time since I've pitched competitively every fifth day. It's not for lack of effort. It's just a timing thing. The more I do it, the better I'll be."
Now that the Minor League teams have completed their regular seasons, the right-hander isn't sure what will come next.
"Nobody's told me, either way," Baker said. "[Not starting] is news to me, if that's the case. I understand there are guys who have come over in trades, and there's a lot of guys here with a limited amount of innings to throw. I get it. I get why they would say that.
"Of course, I do want to start, whether it's here or there or anywhere, because that's what I've always done," he said. "I don't have a lot of experience doing anything else, and I enjoy starting. That is what I want to do."
Sveum said Baker didn't need to throw a simulated game to show the Cubs anything.
"The velocity isn't there that he would like to see or we'd like to see," Sveum said. "The fact of the matter is, he's been able to go every five days and bounce back and no problems."
That's good because it shows his elbow is healthy. What about next year?
"I really haven't thought about next year," Baker said, "because there's a lot that needs to happen this year to set up next year."
Carrie Muskat is a reporter for MLB.com. She writes a blog, Muskat Ramblings, and you can follow her on Twitter @CarrieMuskat. This story was not subject to the approval of Major League Baseball or its clubs.