Colon struggles as A's lose grip on first place
Colon struggles as A's lose grip on first place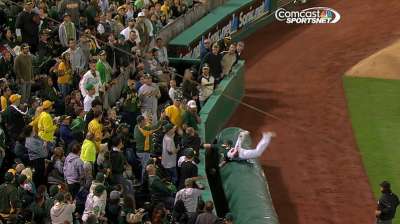 OAKLAND -- The A's lost Tuesday night's game with the Rangers at the O.co Coliseum, 5-1, and with it their share of the lead in the American League West.
Coco Crisp doubled and circled the bases on consecutive fly balls to give Oakland the 1-0 lead in the first inning, but it wasn't a sign of things to come. The A's finished with nine hits, but went 1-for-9 with runners in scoring position.
Bartolo Colon, who hasn't pitched past the fifth inning since July 31, gave up four runs on eight hits in five innings. Only one run was earned, thanks to his struggles to field his position in the Rangers' three-run fifth.
Texas' first run came off a fourth-inning homer by Mitch Moreland, who tied the game, 1-1, as well as the record for home runs hit at the Coliseum by a visiting player in a season with five.
In the fifth, Craig Gentry slapped a ball up the middle that went in and out of Colon's glove for an error. Jurickson Profar then doubled on a sharp line drive to right field that was played poorly by Michael Choice -- making his Major League start in the outfield -- allowing Gentry to score.
"I pitched the ball well," Colon said. "The one play that made the difference was the ball they hit to me that I dropped. ... It's a routine play."
After Ian Kinsler's grounder deflected off Colon's bare hand for a single, moving Profar to third, Adrian Beltre drove Profar in with a RBI groundout to third baseman Josh Donaldson, who nearly prevented two runs with a tag on Kinsler before throwing to first, but the Rangers second baseman eluded Donaldson's glove. A.J. Pierzynski capped the rally with an RBI single on a soft fly ball to center field one batter later.
Alex Rios added a home run in the eighth off Jesse Chavez, the second of four relievers used by the A's.
"We didn't need any dramatic hits," Rangers manager Ron Washington said. "Just put the ball in play and good things will happen."
Pierzynski was also on the receiving end of Donaldson's attempt to bowl the Rangers' backstop over after overaggressive baserunning in the third inning left him hanging out to dry at the plate.
Donaldson rounded third on an infield single to shortstop Profar by Yoenis Cespedes and missed the stop sign by third-base coach Mike Gallego, heading home, where the throw beat him easily.
"I saw him catch it, but I once I hit third I started breaking it down a little bit," Donaldson said. "And then for some reason I thought I heard, 'Go.' I know it wasn't Gallego because once I took two steps he was saying, 'Stay here. Stay here,' and it just kind of ended up being a really bad play for us and for myself."
"It was a great play by Profar just to get to the ball," Pierzynski said. I wish he would have gotten it to me sooner. I know their third base coach was trying to stop him. It looked like that play gave us some energy."
Donaldson made up for the blunder in part after making a sensational catch in the sixth inning when he made a leaping grab over the rolled-up tarp in foul territory on the third-base side, a play that went nicely with two sliding catches by Choice that drew praise from manager Bob Melvin. Choice also recorded his first Major League hit with an infield single in the fifth inning.
"It's going to end up looking like a line drive in the box score," Melvin said. "You get your first hit, it doesn't matter how you get it."
The A's allowed seven runs over the first four games of their homestand and had homered in 15 consecutive games leading up to Tuesday night's contest. They would have gained sole possession of the AL West lead for the first time since Aug. 6 with a win.
"I think you just look at it and say, 'Hey, we've been playing very good baseball.'" Donaldson said. "They caught a couple breaks today, got a couple timely hits and it's just one of those days where it's the game of baseball. We hit some balls pretty hard, especially early, that they got right underneath. And when those balls fall in we win games."
Jeff Kirshman is an associate reporter for MLB.com. This story was not subject to the approval of Major League Baseball or its clubs.