Back with Cards, Jackson had his share of obstacles
Back with Cards, Jackson had his share of obstacles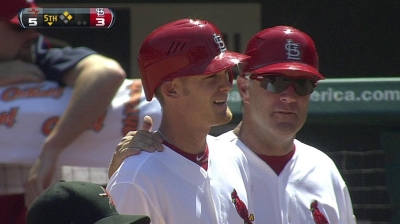 CINCINNATI -- Ryan Jackson's road back to the big leagues was a bit more difficult than that of the average player.
Jackson, who opened the season with St. Louis before being optioned to Triple-A Memphis when third baseman David Freese was activated from the 15-day disabled list April 8, was one of six players added by the Cardinals to their roster on Tuesday. While all of them were happy to be joining the Major League team, Jackson might've been a little happier because of the obstacles he had to overcome.
After hitting .300 before the International League All-Star break, including a torrid .345 in July, the right-handed hitter managed just a .221 average in the second half. It didn't help that he lost about six or seven pounds in mid-August after dealing with a bout of food poisoning.
"I'd rather get hit by a pitch," Jackson said while talking with the media in the visitors' clubhouse at Great American Ball Park before Tuesday night's game against the Reds.
He should know. He took a fastball on the outside of his left knee in the second-to-last game of Memphis' regular season Sunday.
"It caught me pretty flush," he said. "It feels pretty good. I'll be out there, ready to go."
Manager Mike Matheny indicated Jackson would be added to the mix at shortstop, especially when the Cardinals are facing left-handed pitchers.
"We're a team trying to figure out left-handed pitching," Matheny said.
Mark Schmetzer is a contributor to MLB.com. This story was not subject to the approval of Major League Baseball or its clubs.