Lower back feeling better, Beltran rejoins lineup
Lower back feeling better, Beltran rejoins lineup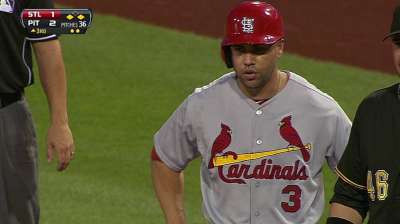 CINCINNATI -- Carlos Beltran was as good as his word.
He said after Monday's 7-2 loss to the Reds in the opener of the Cardinals' four-game series that he would be in the lineup Tuesday. Sure enough, Tuesday's lineup had him batting second and playing right field after injuring his lower back on a swing against Pittsburgh's A.J. Burnett on Saturday.
"Today, it feels good to go," Beltran said before the game. "I took some great swings in the [batting] cage -- real high intensity. Right now, it feels good, so I'm in the lineup."
Beltran, who went into Tuesday's game leading St. Louis with 23 home runs and ranking eighth in the league with a .310 batting average, missed the series finale in Pittsburgh on Sunday and Monday's game.
"As a player, you don't want to miss any games," he said, "but if you can't swing the bat, you can't be in the lineup."
Mark Schmetzer is a contributor to MLB.com. This story was not subject to the approval of Major League Baseball or its clubs.